Men's basketball players honored by Liberty League
---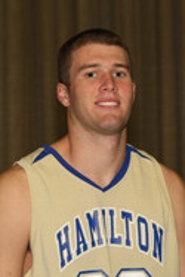 Three Hamilton College men's basketball players were honored by the Liberty League on Feb. 26 when the organization announced its end-of-season award winners and all-star teams.
Patrick Sullivan '12 (Madison, N.J./Delbarton School) was selected the 2009 Rookie of the Year by the league's head coaches. The 6-foot-7 forward was a four-time league Rookie of the Week pick. Sullivan was also named all-league honorable mention.
Harlee Wood '09 (Clinton, Md./Bishop McNamara HS) made the all-league First Team and Jay Simpson '10 (Fort Washington, Md./St. John's College HS) was placed on the Second Team. Wood made the first team in 2008 and was honorable mention in 2007. Simpson was on the second team last year and was co-Rookie of the Year in 2007.
Sullivan ranked 11th in the league in scoring with 12.3 points per game, fourth in field goal percentage (.529) and 18th in rebounding with 5.1 per game. He scored in double figures 15 times out of 20 games. He missed four games in December due to injury.
Wood -- a 6-foot-4 forward -- ranked seventh in the league in scoring with 13.3 points per game, second in rebounding with 7.8 per game and 15th in assists with 2.08 per game. He has scored 1,083 points in his career and has posted seven double-doubles in points and rebounds this season.
Simpson -- a 5-foot-10 point guard -- ranked 30th in the league in scoring with 8.7 points per game and 14th in assists with 2.14 per game. His numbers were much better against league competition with 10.6 points per game and an overall shooting percentage of .495, including 43 percent on three-point attempts.
Hamilton (18-6 overall, 12-2 Liberty) plays Rensselaer in a league tournament semifinal game at St. Lawrence University on Friday, Feb. 27, at 6 p.m. The Continentals are league regular season co-champions with St. Lawrence.