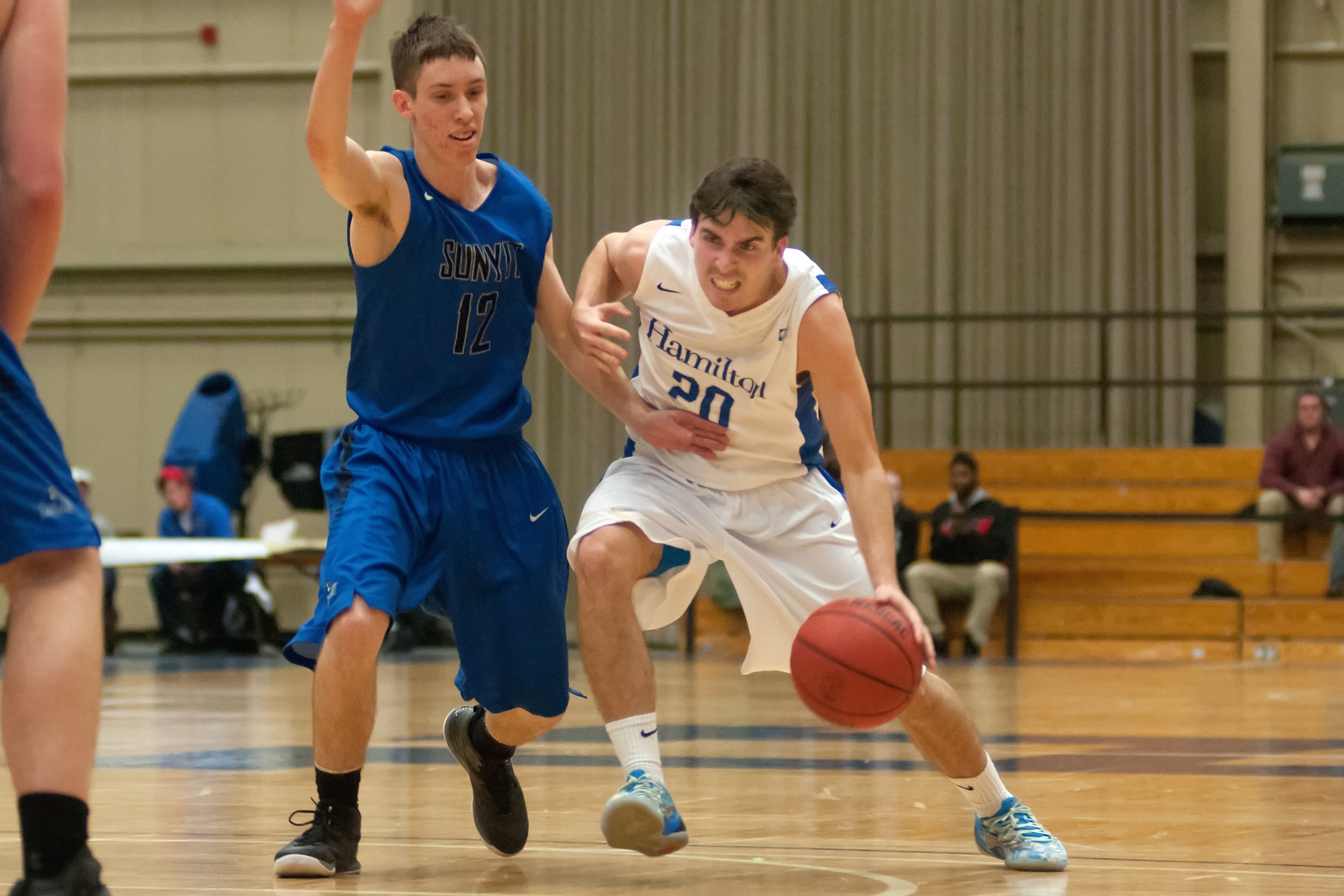 Hamilton College received 32 points from its bench and the Continentals rallied for a 67-59 win against the Utica College Pioneers in the 2014 Hamilton Invitational at Margaret Bundy Scott Field House on Nov. 29.

Box Score

The Continentals shot 54.2 percent from the floor in the second half and remained undefeated at 5-0. In Saturday's other tournament games, St. Lawrence University defeated SUNY Environmental Science and Forestry, 70-52, and Lycoming College pulled away from SUNY Polytechnic for an 81-67 victory.

Hamilton plays Lycoming on Sunday, Nov. 30, at 4 p.m. The second and final day of the schedule begins at noon with St. Lawrence taking on Utica. SUNY Poly faces SUNY ESF at 2 p.m.

Karl Koster '18, who had scored two points all season prior to Saturday, helped lead the Continentals with 12 on 6 of 7 shooting. Joseph Lin '15 recorded 12 points and five assists off the bench.

Jack Donnelly '16 drained three 3-pointers and finished with 10 points, and Joe Pucci '18 added nine off the bench for Hamilton. Wes Wilbur '17 grabbed a career-high 12 rebounds, Jack Dwyer '18 handed out five assists and Ajani Santos '16 chipped in a career-best five assists and blocked three shots.

Robert Tutein '16 led all players with 15 points for Utica (2-3 overall). Chris Jeffers '15 finished with 13 points and nine boards. Conor Maisch '15 canned a trio of 3-pointers and ended up with 11 points, and Aaron Nevins '15 dished out four assists.

The Pioneers sank six 3-pointers in the first half and led 38-34 at the break. Jeffers made a layup on Utica's first possession of the second half and out the Pioneers up by six. The Pioneers still led 45-41 on an Ivan Iton '18 layup with 14:01 left.

The Continentals took the lead for good with a 14-3 run. Santos, Koster and Wilbur made baskets from in the paint for a 47-45 Hamilton advantage. Ian Henderson '15 gave Utica its last lead at 48-47 with a 3-pointer with 11:43 remaining. Pucci came right back with a basket from beyond the arc and the Continentals led the rest of the night. Five straight points by Lin pushed Hamilton's cushion to 55-48 with 7:08 to go.

Jeffers scored five points in a row and pulled the Pioneers back to within 55-53 with 4:43 left. The Continentals clinched the win with a 9-2 spurt that gave them a 64-55 lead with 1:36 remaining. Donnelly started the run with a 3-pointer and Santos ended it with a jumper. Koster had four points in between. Utica shot just 26 percent in the second half.

The Pioneers jumped out to a 13-4 lead but Hamilton recovered and forced the game's first tie at 17-17 midway through the first half. There were three more ties before the break and Utica went into the locker room with a slim four-point advantage.

The teams combined to commit just 18 turnovers. The Continentals shot at least 50 percent from the field for the second straight game.