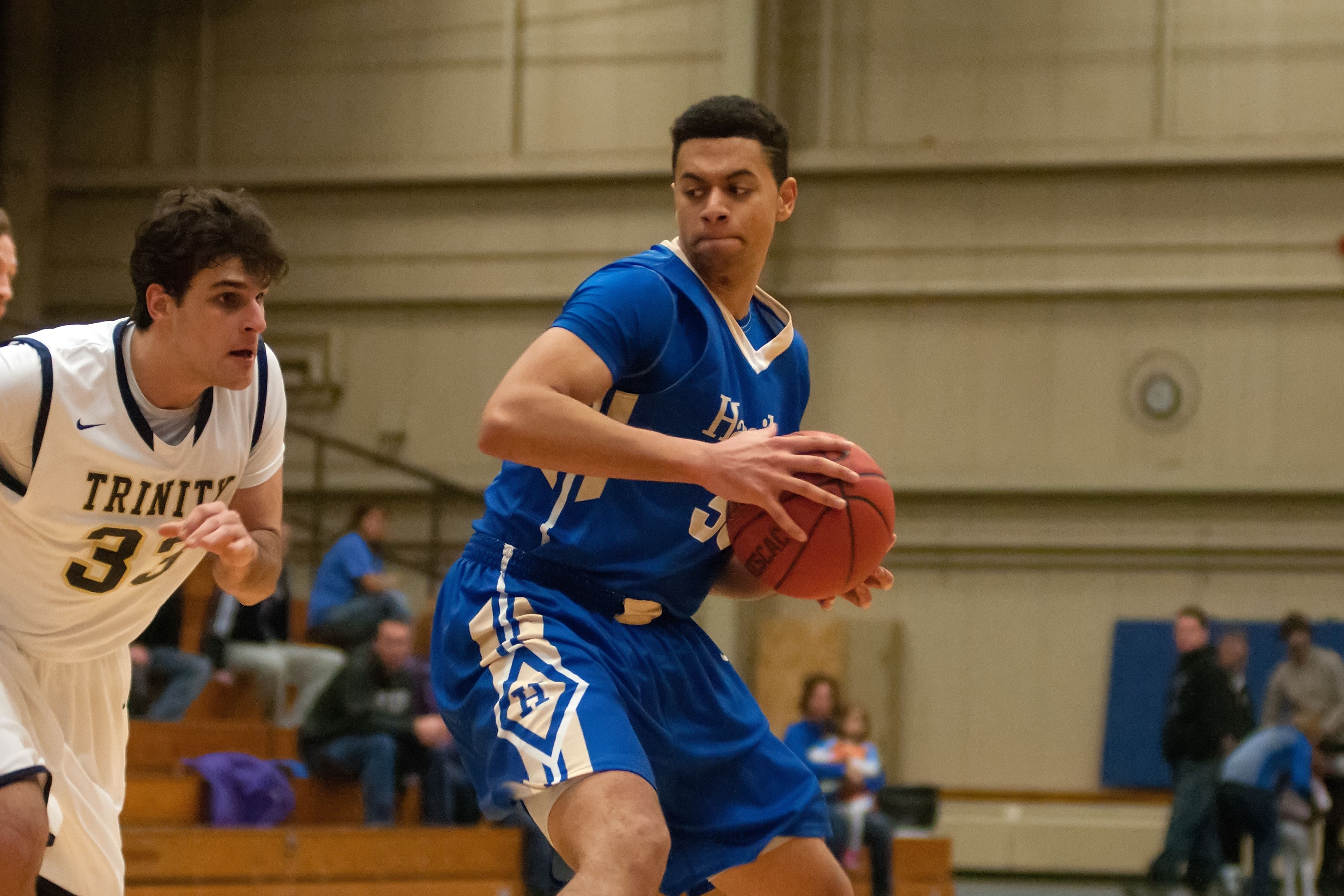 The Hamilton College men's basketball team won their fourth straight non-conference game on Monday night, topping Keystone College 82-66 at Hamilton's Margaret Bundy Scott Field House. The Continentals (12-6 overall) are 11-2 in non-conference action this winter.

Box score

Ajani Santos '16 collected his first career double-double, leading all players with 22 points and a personal-high 12 rebounds. Joseph Lin '15 added 13 points and nine assists.

The Continentals closed the first half on a 7-2 run that erased a one-point deficit, then outscored the Giants 11-2 in the first 3:32 of the second period to take a 49-36 lead. Keystone never came closer than seven points the rest of the game.

Santos, who made eight of 12 shots from the floor, scored six points and pulled down three rebounds during Hamilton's decisive 11-2 run. His 22 points were one short of his career best.

The Giants (5-12) had won four of six coming into the game. They pulled to within 59-50 on a jumper by Duncan Lunsford '15 with 9:07 remaining. Keystone held the Continentals to one basket over the final 6:44 but Hamilton made 11 straight free throws to close out the game.

Lunsford scored a team-leading 19 points, including a seven-for-11 performance from the floor. Jesse Longmire '17 added 11 points and Miles Dargan '15 finished with five assists.

Hamilton held an early 5-4 lead before running off 16 of the next 21 points over a six-minute span to open up a 21-9 advantage. Keystone fought back with a 21-8 spurt and took the lead for the first time with 2:35 left before halftime. The Giants trailed 38-34 at the break.

Peter Kazickas '15 scored 17 points and Joe Pucci '18 contributed 12 points and a season-best three assists. Kyle Pitman '17 had four steals and four rebounds, helping the Continentals to a 36-22 rebounding advantage. Hamilton limited Keystone to one offensive rebound and held the Giants 12 points below their season scoring average.

Lin, who ranks fifth nationally in assists with 6.9 per game, came within an assist of his fourth double-double of the season.

The Continentals continue non-conference play on Thursday, Jan. 29, with a 7:30 p.m. game at Alfred State College. Keystone plays at Centenary (N.J.) on Wednesday night.