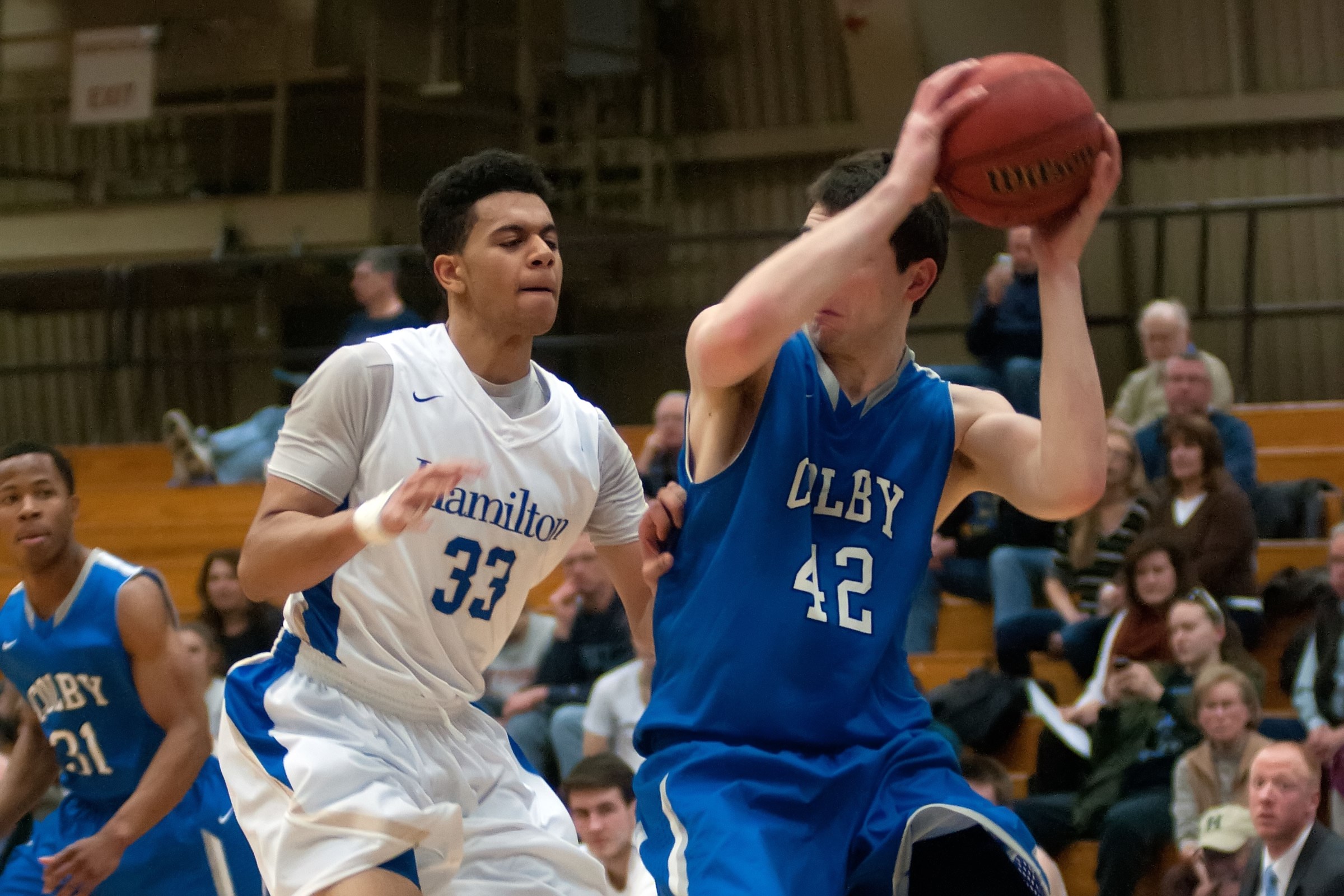 Hamilton College's Ajani Santos '16 established career highs of 24 points and nine rebounds as the Continentals defeated the SUNY Polytechnic Wildcats 63-51 in a non-conference game at Hamilton's Margaret Bundy Scott Field House on Nov. 19.

Box Score

The Continentals (2-0 overall) won for the 29th time in 31 all-time meetings with SUNY Poly -- formerly SUNY Institute of Technology. Hamilton scored the first four points of the night and never trailed.

Santos made 10 of 16 shots and was a perfect 4-for-4 at the free-throw line. He also blocked three shots. Peter Kazickas '15 grabbed nine boards, Jack Dwyer '18 handed out seven assists and Kyle Pitman '17 was credited with four steals.

Maverick Hodge '16 paced the Wildcats (0-1) with 21 points and five assists. Ryan McCarthy '18 added nine points and Tyler Taverne '18 chipped in eight points and eight rebounds.

A 3-pointer by McCarthy forged the lone tie of the night at 13-13 with 9:15 left in the first half. Jack Donnelly '16 drained a 3-pointer for the Continentals and Carlos Fineman '17 added a layup that made it 18-13, and Hamilton led the rest of the way. Dwyer's layup just before the halftime buzzer gave the Continentals a 26-20 advantage at the break. SUNY Poly shot just 25.9 percent from the floor in the opening 2o minutes.

A Santos jumper gave Hamilton its first double-digit lead of the night at 35-25 with 12:55 remaining. The Wildcats pulled within four at 37-33 thanks to an 8-2 spurt that was capped by a Taverne layup with 10:03 to go.

The Continentals countered with an 8-0 run for a 45-33 advantage with 7:23 left. Hamilton's lead grew to 17 points -- the largest of the game -- at 51-34 with 3:46 remaining when Kazickas made a pair of free throws. The Continentals shot 50 percent from the field and went 15-for-18 at the line in the second half.

Hamilton hosts Keuka College for another non-conference game on Saturday, Nov. 22. SUNY Poly travels to Utica College on Tuesday, Nov. 25.