Men's basketball rallies for road win
---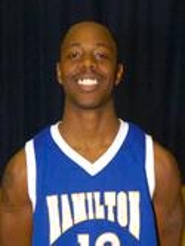 Jay Simpson '10 scored 20 of his career-high 26 points in the second half as visiting Hamilton College rallied for a 76-72 non-league win against Lehman College at the APEX Center on Dec. 29.
Simpson was 6 of 9 from the field, including a pair of 3-pointers, and went 12-for-13 at the free-throw line. His previous career high was 19 points last season. He was also credited with five assists and two steals.
Russ Rosenband '12 came off the bench to drain six 3-pointers and finished with a career-best 20 points in his first game in nearly a year. Rosenband missed the final 17 games of his rookie season and the first six games this year with injuries. He helped Hamilton (4-3 overall) to a 34-32 lead at the break with 15 first-half points.
Ephraim McDowell '12 chipped in 12 points in his first action this season. Dayne Harris '11 added nine points and five rebounds. Jon Ciriello '11 and Pat Sullivan '12 pulled down five boards apiece, and Joe Manns '10 made three steals.
Lehman (3-8) led by as many as eight points at 57-49 midway through the second half, but the Continentals slowly chipped away at the Lightning's lead. Hamilton trailed by just two points at 69-67 with 1:44 left before Harris forged the sixth tie of the second half on a layup with 1:25 remaining.
A steal and two free throws by Simpson put the Continentals ahead to stay, 71-69 with 45 seconds left. Simpson made two more free throws for a four-point lead about 30 seconds later. After a three-point play pulled Lehman within a single point, Simpson clinched the win with three more free throws in the final seconds.
In the first half, Hamilton used an 11-0 run to turn a 10-8 deficit into a 19-10 lead. Three different players made a 3-pointer during the spurt. The Continentals' largest lead was 12 points at 27-15 with 7:19 remaining in the half. The Lightning ended the first 20 minutes with a 17-7 run to draw within one possession as the teams headed to the locker room.
The difference in the game was success from beyond the arc. Hamilton made a season-high 12 shots from long range, and Lehman made just two.
The Continentals take to the road again on Saturday, Jan. 2, when they travel to Middlebury College for another non-league game scheduled to start at 4 p.m. Middlebury is No. 7 in the latest NCAA Division III Top 25 poll by D3hoops.com.