Men's basketball rallies for win out West
---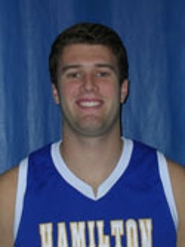 Pat Sullivan '12 scored a career-high 28 points to rally Hamilton College to a 73-69 win against Whittier College in Whittier's Purple & Gold Poet Classic at Graham Athletics Center in California on Jan. 4.

The Continentals (6-3 overall) rebounded from a 13-point deficit at the half to pull off the victory and earn a split of its two tournament games. Sullivan and Ephraim McDowell '12 were selected to the all-tournament team. Hamilton defeated the Poets 97-84 in the only other meeting between these programs back in 1994-95.

Sullivan grabbed a season-high 11 rebounds and posted his fourth career double-double. He was 9 of 14 from the floor, including 1 of 2 from 3-point range. He also made nine free throws.

McDowell scored all 18 of his points in the second half as he and Sullivan combined for 36 of the Continentals' 45 points in the final 20 minutes. Ryan Wright '14 chipped in eight points, four assists and five steals. Greg Newton '14 added five assists and six boards off the bench. Ken Click '13 collected four offensive rebounds.

Hamilton shot just 28 percent from the field in the first half, and the Continentals trailed 41-28 at the break. The shooting improved dramatically in the second half as Sullivan and McDowell heated up. Hamilton made half of its 30 field goal attempts, including 6 of 12 from beyond the arc.

Whittier (5-6) scored the first four points after halftime and increased its advantage to 45-28. The Continentals responded with a 20-2 run capped by a McDowell jumper that gave Hamilton a 48-47 lead with 13:30 left. There were six lead changes and three tie scores the rest of the way.

The Poets recovered from the Continentals' spurt and held a 68-64 lead with 4:30 remaining. McDowell pulled Hamilton within one on a 3-pointer with four minutes left, and Sullivan put the Continentals in the lead for good at 69-68 with a jumper with 3:21 remaining.

Neither team scored again until McDowell drained two free throws with 15 seconds left. Whittier had several chances to reclaim the lead in the meantime, but was 0 of 3 from the field and missed all four free-throw attempts, including two with 21 seconds remaining.

Trailing 71-68, the Poets missed a layup, but grabbed the offensive rebound and drew a foul with six seconds left. Whittier missed the first and made the second to draw within 71-69. McDowell was then fouled and clinched the victory with two more made free throws for the final margin.

The Poets shot 32 percent from the field in the second half. Whittier was also hurt by a total of 18 turnovers, and 52.4 percent (11-21) shooting at the line.

Hamilton travels to Hobart College for the 2010-11 Liberty League opener on Monday, Jan. 10.