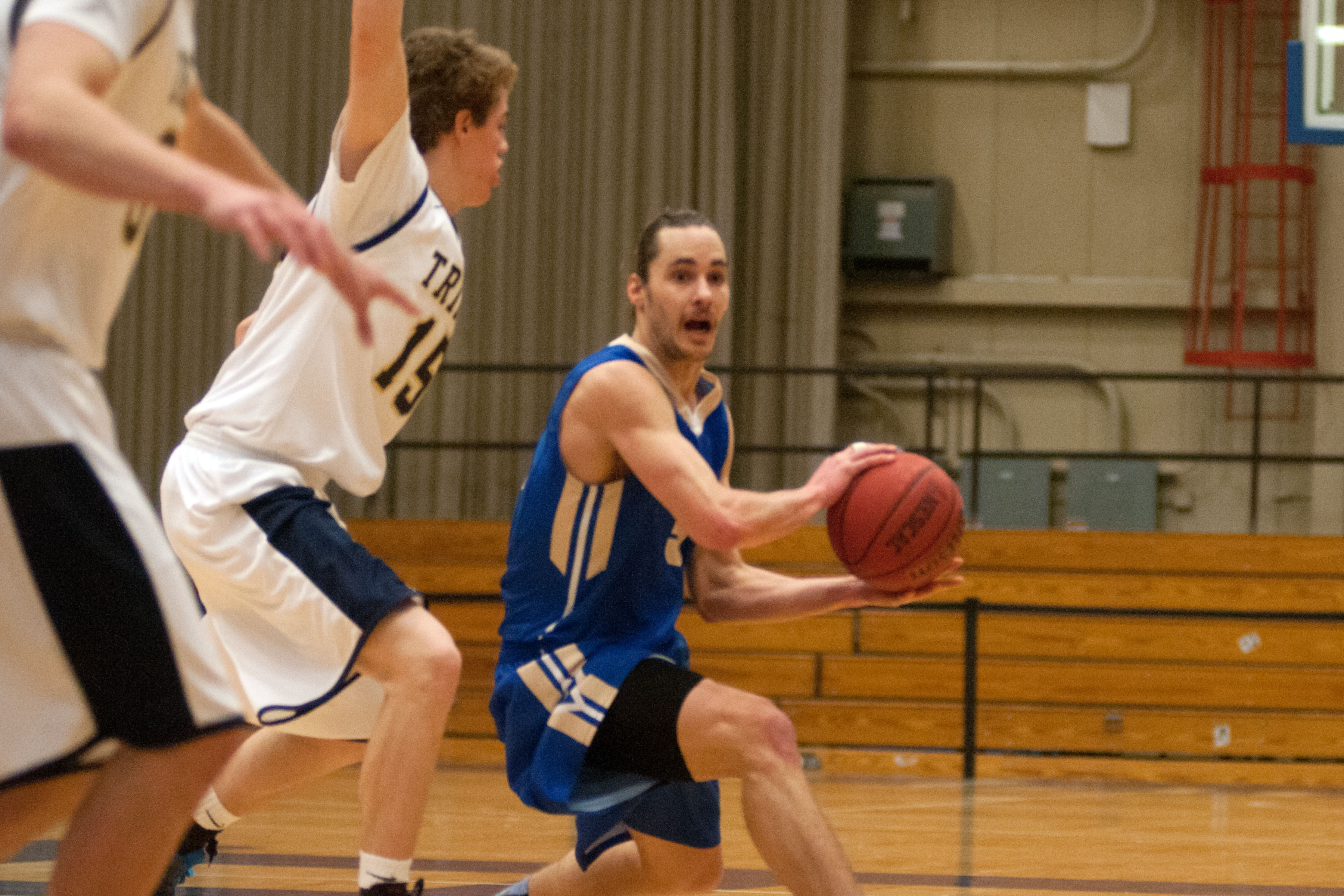 The Hamilton College Continentals came back from a 12-point deficit in the second half and posted a 67-64 NESCAC win against the Williams College Ephs at Hamilton's Margaret Bundy Scott Field House on Saturday afternoon.

Box Score

The Continentals (11-6, 1-4 NESCAC) ended a four-game skid with the three-point victory. Williams had won the previous five games against Hamilton dating back to the Continentals' 62-58 triumph on Jan. 13, 2009. Hamilton's last four wins against the Ephs have all been by four points or fewer.

Peter Kazickas '15 led the Continentals with 18 points. Kyle Pitman '17 chipped in 12 off the bench and Joseph Lin '15 added 11 points, nine assists and four steals before he fouled out with 2:56 left. Lin is ranked fifth in Division III with nearly seven assists per game.

Ajani Santos '16 grabbed seven rebounds and blocked three shots for Hamilton. Jack Donnelly '16 and Wes Wilbur '17 scored eight points apiece. The Continentals held a 35-27 advantage on the glass.

Hayden Rooke-Ley '15 paced the Ephs (11-7, 2-3) with 21 points as he made 7 of 10 shots from beyond the arc. Leading scorer Daniel Wohl '15 contributed 13 points, six boards and two blocked shots. Daniel Aronowitz '17 scored nine points and Mike Greenman '17 had eight to go with seven assists. Williams was 14 of 29 from 3-point range but just 6-for-13 at the free-throw line.

Rooke-Ley's last 3-pointer capped a 13-2 Ephs run and gave Williams its largest lead of the afternoon at 53-41 with 12:33 left. The Ephs still led 58-47 after a trifecta by Wohl with 9:28 remaining. Williams went cold from the field after that as the Ephs made just one basket in the final nine minutes.

Trailing by 11 points midway through the second half, Hamilton went on a 17-3 run and took the lead for good. Donnelly started the rally with a 3-pointer and Kazickas drove in for a layup three minutes later. A basket by Aronowitz was sandwiched between two Lin free throws and a basket in the paint by Wilbur. Ryan Kilcullen '15 made one free throw for the Ephs and it was still Williams by five at 61-56 with 3:30 to go.

Kazickas scored from close range again and two Donnelly free throws pulled the Continentals within one at 61-60 with 1:54 left. Santos gave Hamilton its first lead since midway through the first half with a jumper with 1:18 remaining. After the Ephs missed a 3-point attempt, the Continentals' Jack Dwyer '18 was fouled with 20 seconds to go and he calmly made both shots for a 64-61 advantage.

Hamilton fouled Greenman with 7.4 seconds left before Williams could set up for a 3-point shot and he made both to pull the Ephs within one. Kazickas was sent to the line with 6.6 seconds remaining and he restored the three-point cushion.

Once again, the Continentals fouled Greenman before he could find an open teammate for a shot from long range. He made the first shot with 3.9 seconds to go and, with Williams trailing 66-64, missed the second free throw on purpose to give his teammates a chance to grab the rebound and either tie or win the game.

Instead, Kazickas pulled down the missed shot and was fouled with 2.4 ticks left. He made the first free throw, missed the second and a desparation heave by the Ephs was off the mark as the horn sounded.

There were six ties in the first half, and the largest lead was seven points by Williams at 29-22 after a Wohl 3-pointer with 6:13 remaining in the half. Hamilton rallied to tie the score at 34-34 but Kilcullen drained a shot from beyond the arc in the final seconds and the Ephs owned a 37-34 edge at the break. Rooke-Ley finished the half with 18 points and was a big reason why Williams made nine 3-pointers in the first 20 minutes. The Continentals shot 56 percent and the Ephs shot 52 percent in a well-played first half.

Hamilton hosts Keystone College for a non-conference game on Monday, Jan. 26. Williams returns home to face Castleton State in non-conference action on Tuesday, Jan. 27.