Men's basketball returns to action with tournament loss to Brockport
---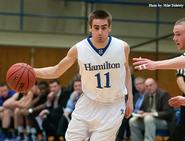 The Hamilton College Continentals dropped a 74-62 decision to the SUNY Brockport Golden Eagles in the opening round of Medaille College's Knee Center Holiday Tournament at the Sullivan Center on Monday night.

Box Score

The Continentals (5-4 overall) will face Alfred State College in the tournament's consolation game on Tuesday, Dec. 31, at 1 p.m. Alfred State lost 87-57 against the hosts in the tournament opener.

The Golden Eagles (5-1) led the entire game on the way to their fourth straight win. They opened up their biggest lead at 59-42 with 6:42 left before Hamilton went on a 16-4 run. Peter Kazickas '15 scored all eight of his points during the three-and-a-half minute spurt as the Continentals closed to within five points at 63-58.

Brockport responded with 11 of the game's final 15 points to seal the win. The Golden Eagles made all eight of their free-throw attempts and held the Continentals to one basket during the game-ending stretch.

Matt Hart '16, playing just outside his hometown of Orchard Park, led Hamilton with 16 points, a season-best eight rebounds and added two assists. Matt Dean '14 and Greg Newton '14 both scored 10 points and Dean's total was a season high.

Jack Donnelly '16 scored a season-high eight points and paced the Continentals with three steals. Bradley Gifford '15 matched Hart with eight rebounds.

John Ivy led Brockport with 24 points, including an 8-for-8 showing at the free-throw line, and pulled down eight rebounds. Patrick Coyle, who scored 15 points, posted game-high totals of 11 rebounds and five blocked shots.

The Golden Eagles, who won the eight-team Wendy's Classic with a 3-0 record, allowed just one basket in the opening 6:22 and jumped out to a 15-5 lead at the 12:26 mark. Eight straight Hamilton points, including four by Hart, pulled the Continentals to within two but Brockport's 11-1 run put the Golden Eagles back in control.