Men's basketball rides hot second half to road win
---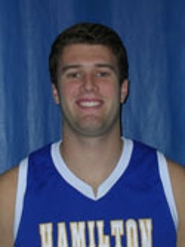 Pat Sullivan '12 scored a game-high 24 points to lead Hamilton College to a 73-66 win against Rensselaer in a Liberty League game at Rensselaer's East Campus Arena on Jan. 21.

Sullivan has scored 24 points in each of the last two games. He was 8 of 14 from the field, including a perfect 4 of 4 from 3-point range, and 4-for-5 at the free-throw line. He added seven rebounds and three steals.

Matt Dean '14 posted his first double-double for Hamilton with 10 points and a game-high 10 rebounds. Ephraim McDowell '12 chipped in nine points, Ryan Wright '14 added eight with four assists and Ken Click '13 dropped in eight points.

The Continentals (8-5 overall, 2-2 Liberty) trailed 30-25 at the half, but came out firing after the break. Hamilton shot 64 percent from the floor, including 5 of 6 from beyond the arc, to turn a five-point deficit into a seven-point win in the final 20 minutes.

The Continentals opened the second half with a 7-2 run and tied the score at 32-32 on a Sullivan layup, a free throw by Dean and two baskets by Click. The lead changed hands four times in the next three minutes, and Rensselaer held a 39-37 edge on a 3-point play with 14:34 left.

Hans Schulte '13 made a layup, which was followed by a Red Hawks' basket. Hamilton followed with a 10-0 run for a 49-41 advantage with 9:56 remaining. Tom McInerney '14 got things rolling with a layup, Sullivan nailed a 3-pointer, Click scored down low and Sullivan drained another trifecta to complete the spurt. The Continentals' lead fluctuated between six and 10 points the rest of the night.

Hamilton started the game with an 8-2 run, but Rensselaer countered with one of its own to tie the score at 10-10. A layup by McDowell put the Continentals up 16-15 before the Red Hawks scored the next six points. Rensselaer went up by as many as six -- its largest lead of the game -- three times in the final 2:37 of the half, including 28-22 with 1:10 remaining.

The Red Hawks (9-5, 3-1) shot just 36 percent from the floor and committed 19 turnovers.

Hamilton travels to Vassar College for another league game on Saturday, Jan. 22.