Men's basketball season ends in NESCAC quarters
---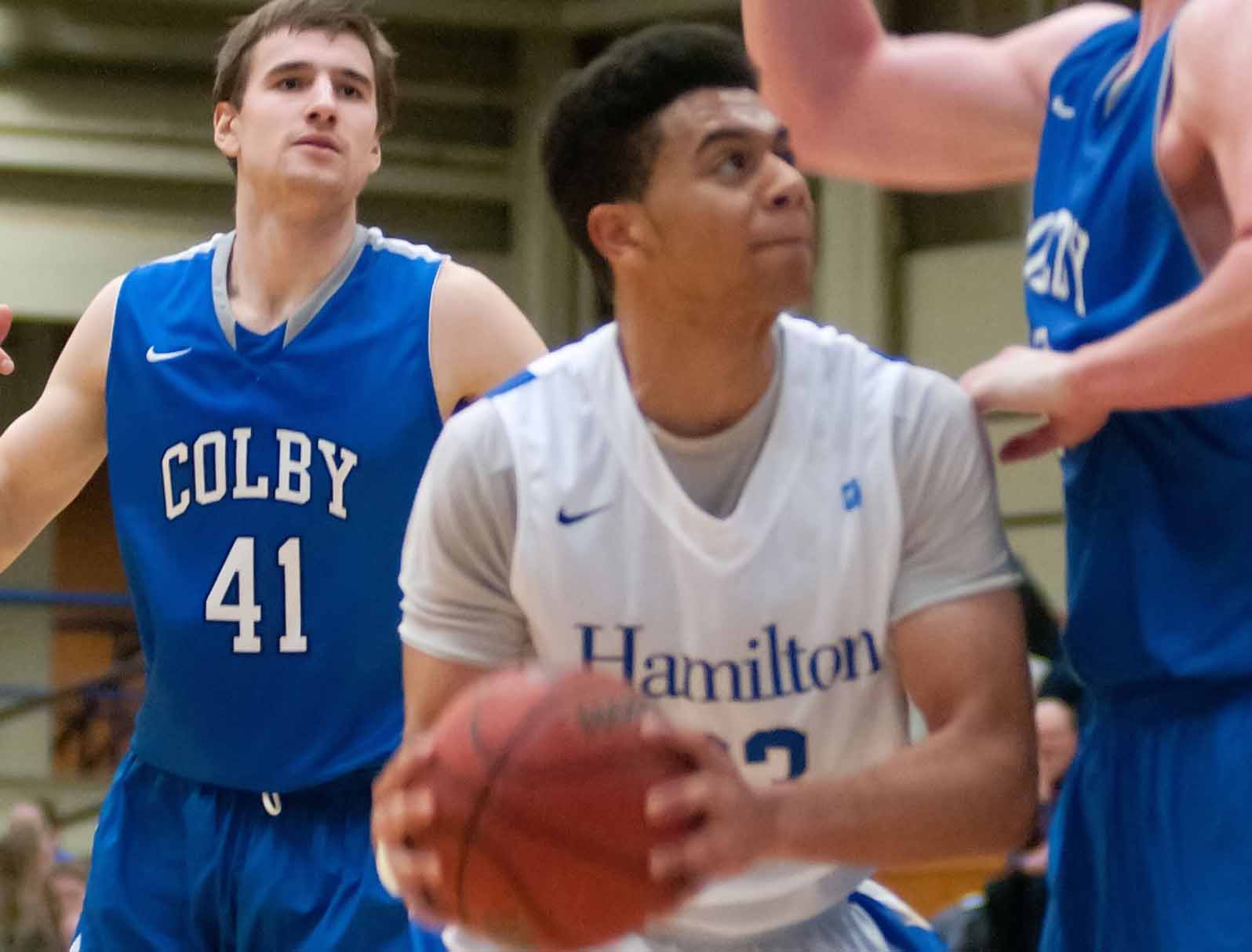 The Hamilton College Continentals ended their season with an 81-77 loss against the Middlebury College Panthers in the quarterfinals of the 2014 NESCAC Men's Basketball Championship at Middlebury's Pepin Gym on Saturday afternoon.

Box score
The Continentals (14-11) fought back from a 22-point second-half deficit to pull within three points with 20 seconds left. Hamilton missed a pair of 3-point attempts in the final 10 seconds. The Continentals were seeded sixth for the championship.

The third-seeded Panthers (17-8) opened the second half with a 15-6 run that gave them a 61-39 lead with 14:42 to go. Hamilton scored 12 straight points, including back-to-back layups by Ajani Santos '16, during the next three minutes to cut their deficit to 10.

Middlebury maintained its double-digit advantage until the 4:53 mark when the Continentals went on a 12-4 run to pull within 75-71 with 44 seconds remaining. Greg Newton '14 scored four of Hamilton's points and Matt Hart '16 capped the burst with a 3-point basket and a layup on consecutive possessions.

A Jack Roberts '14 three-point play put the Panthers up 78-71 with 32 seconds to go. After Joseph Lin '15 scored to pull Hamilton to 78-73, the Continentals forced a turnover and Hart made a pair of free throws to make it a one-possession game.

Middlebury's Joey Kizel '14 made three of four free throws in the last 16 seconds to seal the win. Two 3-point tries by Hamilton were off the mark before Lin hit a layup at the buzzer.

Santos made nine of his 14 shots to lead all scorers with a career-best 18 points. Hart and Newton scored 11 points apiece and Jack Donnelly '16 finished with 10 points, which was one short of his career high. Newton's six assists led Hamilton. Bradley Gifford '15 finished with eight points and a team-best five rebounds.

Hunter Merryman '15 led Middlebury with 17 points. Kizel added 14 points and topped the Panthers with six assists and six rebounds. Middlebury owned a 36-26 rebounding advantage.

The Panthers will face second-seeded Williams College in next Saturday's semifinals.