Men's basketball stays undefeated with one-point win
---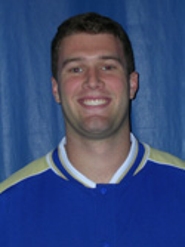 Pat Sullivan '12 posted season highs of 22 points and 10 rebounds to lead Hamilton College to a 73-72 win over SUNY Institute of Technology in a non-conference game at SUNYIT's Campus Center Gym on Dec. 3.

Hamilton is 7-0 for the first time since 2005. It was the seventh career double-double for Sullivan. Greg Newton '14 added 12 points, six rebounds and a game-high five assists. Eric Benvenuti '13 chipped in nine points, Ken Click '13 added eight and Matt Dean '14 had seven. Bradley Gifford '15 grabbed seven boards and Joseph Lin '15 dished out four assists.

T'Andre Richardson led the Wildcats with 22 points, and four other players scored in double figures. Derek Rowe and Ryan James had 11 points apiece, and Alex Grimmer and Yhashin White added 10. Rowe led the team with nine rebounds and White posted a game-high three steals.

The teams combined for six ties and 11 lead changes in the first half. A 3-pointer by James with 8:00 remaining gave SUNYIT its largest lead at 22-15. The Continentals countered by scoring the next eight points. Sullivan hit a jumper and completed a three-point play. Newton's 3-pointer with 6:50 on the clock capped the 8-0 spurt and put Hamilton ahead 23-22.

A jumper by Click with 36 seconds remaining in the half gave the Continentals the lead for good at 33-31. Click converted a layup with one second left to give Hamilton a four-point halftime cushion.

A 3-pointer by Gifford with 12:35 remaining gave the Continentals their largest lead of the day at 51-40. The Wildcats (0-5 overall) answered with a 7-0 run capped by a White jumper to cut Hamilton's lead to 51-47 with 11:06 left. Sejad Gromilic hit a 3-pointer with 3:42 on the clock to pull SUNYIT within 63-62 -- the closest they had been since late in the first half.

A jumper by Hans Schulte '13 put the Continentals up 71-66 with 1:23 remaining. But Richardson's free throw completed a three-point play that pulled the Wildcats within 72-71 with 37 seconds left.

After missing a layup off a Hamilton turnover with 19 seconds remaining, SUNYIT was forced to foul. Schulte hit a free throw to make it 73-71 with 15 seconds on the clock.

The Wildcats had a chance to tie when Richardson was fouled with just two seconds left. He hit the first free throw to make it 73-72, but missed the second, and a final shot by James off an offensive rebound missed to give the Continentals the victory.

Hamilton shot 43 percent from the floor, while SUNYIT shot 40 percent. The Continentals lead the all-time series 25-3.

Hamilton hosts Cazenovia College for a non-conference game on Sunday, Dec. 4, at 4 p.m.