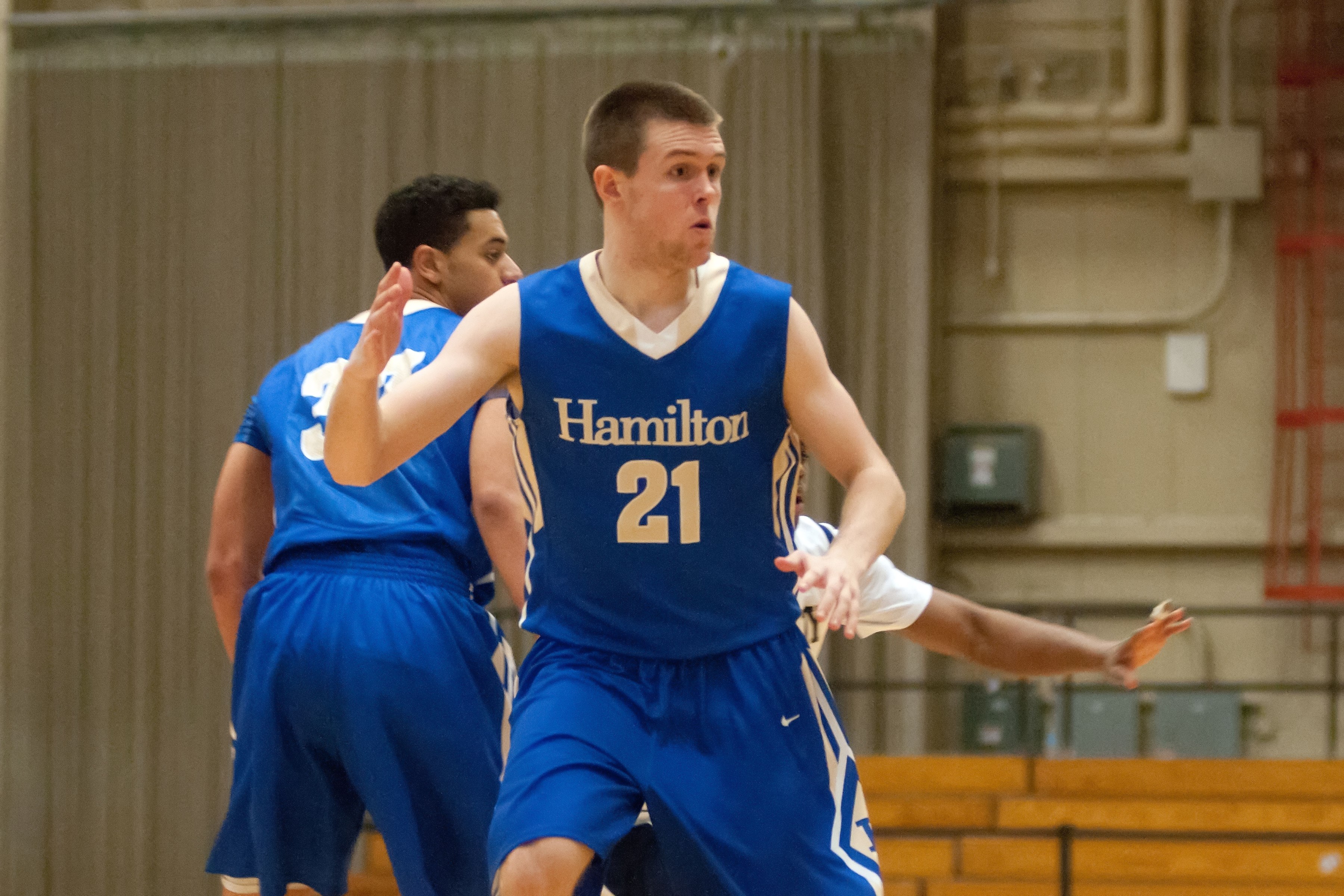 Bowdoin College's Lucas Hausman poured in 28 points and the Polar Bears posted an 89-74 NESCAC win against the Hamilton College Continentals at Bowdoin's Morrell Gymnasium on Saturday afternoon.

Box Score

Hausman went 17-for-17 at the free-throw line and the Polar Bears went 26-for-31 for 83.9 percent as a team at the stripe. Bowdoin held a 38-28 advantage on the boards.

The Polar Bears (11-4, 3-1 NESCAC) shot 59.4 percent in the first half and led 51-33 at the break. John Swords chipped in 16 points and six blocked shots, and Keegan Pieri dropped in 16 points. Matt Palecki tallied a double-double with 14 points and 13 rebounds, and Bryan Hurley contributed eight points, eight assists and four steals.

Hamilton (10-6, 0-4) was 13-of-27 shooting from 3-point range for 48.1 percent. Kyle Pitman '17 poured in a career-high 21 points off the bench as he made 7 of 9 shots from beyond the arc.

Joseph Lin '15 finished with 20 points, eight assists and four steals for the Continentals. Lin has scored 20 or more points in three straight games. He leads the NESCAC with 6.8 assists per game.

Jack Donnelly '16 and Ajani Santos '16 scored eight points apiece, and Jack Dwyer '18 tied a season high with seven assists for Hamilton.

Bowdoin opened up an early 8-2 advantage and led the whole way. Hamilton stayed within striking distance, closing to within five points at 32-27 on a Santos jumper with 7:04 remaining in the first half.

The Polar Bears went up by double digits for good with a quick 15-2 spurt over a four-minute span for a 47-29 cushion. The run was sparked by a pair of Palecki 3-pointers, and Bowdoin carried its 18-point lead into halftime.

The Polar Bears scored the first 11 points in the second half for a 62-33 lead. Hamilton tried to get back into the game as Pitman scored 18 of his team's first 21 points in the first nine minutes. The Continentals pulled to within 13 points at 72-59 on a Wes Wilbur '17 jumper with 8:13 to go but didn't get any closer.

Hamilton hosts Williams College for another conference game on Saturday, Jan. 24, at 3 p.m.