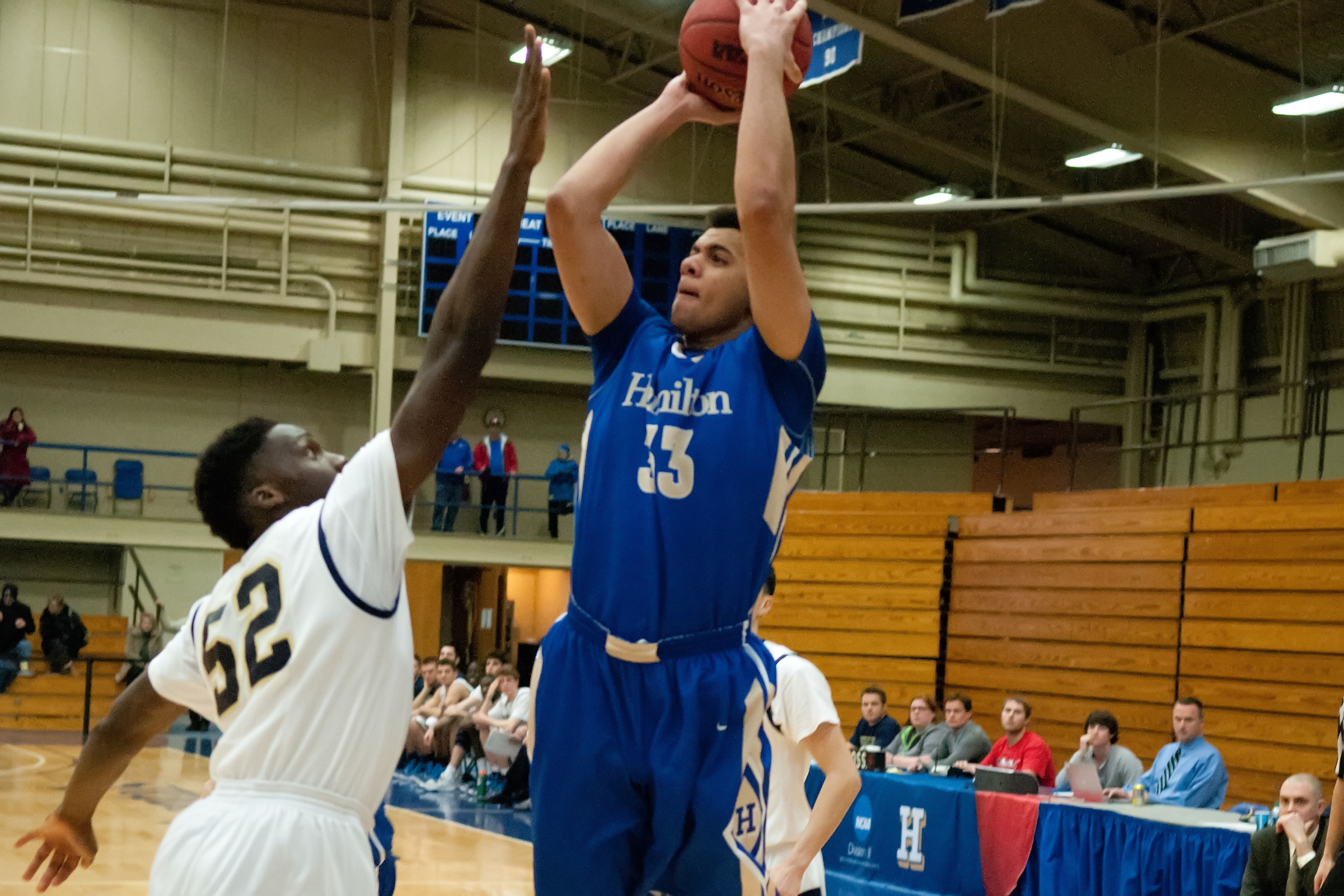 Tufts University received 43 points from its bench and the Jumbos defeated the Hamilton College Continentals 70-63 in a NESCAC game at Tufts' Cousens Gymnasium on Friday night.

Box Score

Tarik Smith '17 was a perfect 3 of 3 from beyond the arc and finished with 16 points for the Jumbos (11-9, 5-2 NESCAC). Stephen Haladyna chipped in 11 points and Vincent Pace '18 scored 10. Ryan Spadaford '16 dropped in nine points and Tom Palleschi '17 added nine to go with a game-high seven rebounds. Tufts made 20 free throws while Hamilton attempted just seven.

Ajani Santos '16 paced the Continentals (13-8, 1-6) with a game-high 18 points. Joseph Lin '15 posted 16 points and eight assists. Lin began the night ranked fifth in Division III with 7.0 assists per game. Joe Pucci '18 contributed eight points and Wes Wilbur '17 had six boards and a career-best three steals.

Neither team led by more than five points the entire first half. Smith hit a 3-pointer with 6:41 remaining that tied the score at 19-19. Santos put the Continentals ahead by two again on their next possession.

Palleschi locked the score at 21-all with two free throws and Thomas Lapham '18 and Spadaford helped give the Jumbos a 28-25 lead with just under four minutes remaining in the half. The Jumbos took a 32-29 lead into the break and didn't trail again. Tufts shot 55.6 percent, including 6 of 8 from 3-point range, and Hamilton shot 52 percent.

Midway through the second half, Smith and Pace sunk 3-pointers and Everett Dayton '18 added a basket as the Jumbos jumped out to their largest advantage of the night at 50-38. The Continentals rallied and closed to within three points twice at 50-47 and 52-49, but couldn't get any closer in the final six minutes. Hamilton fouled Tufts six times in the final 1:43 and the Jumbos went 9-for-12 at the line.

The Continentals travel to Bates College for another NESCAC game on Saturday, Feb. 7, at 3 p.m.