Men's basketball topped by Rochester
---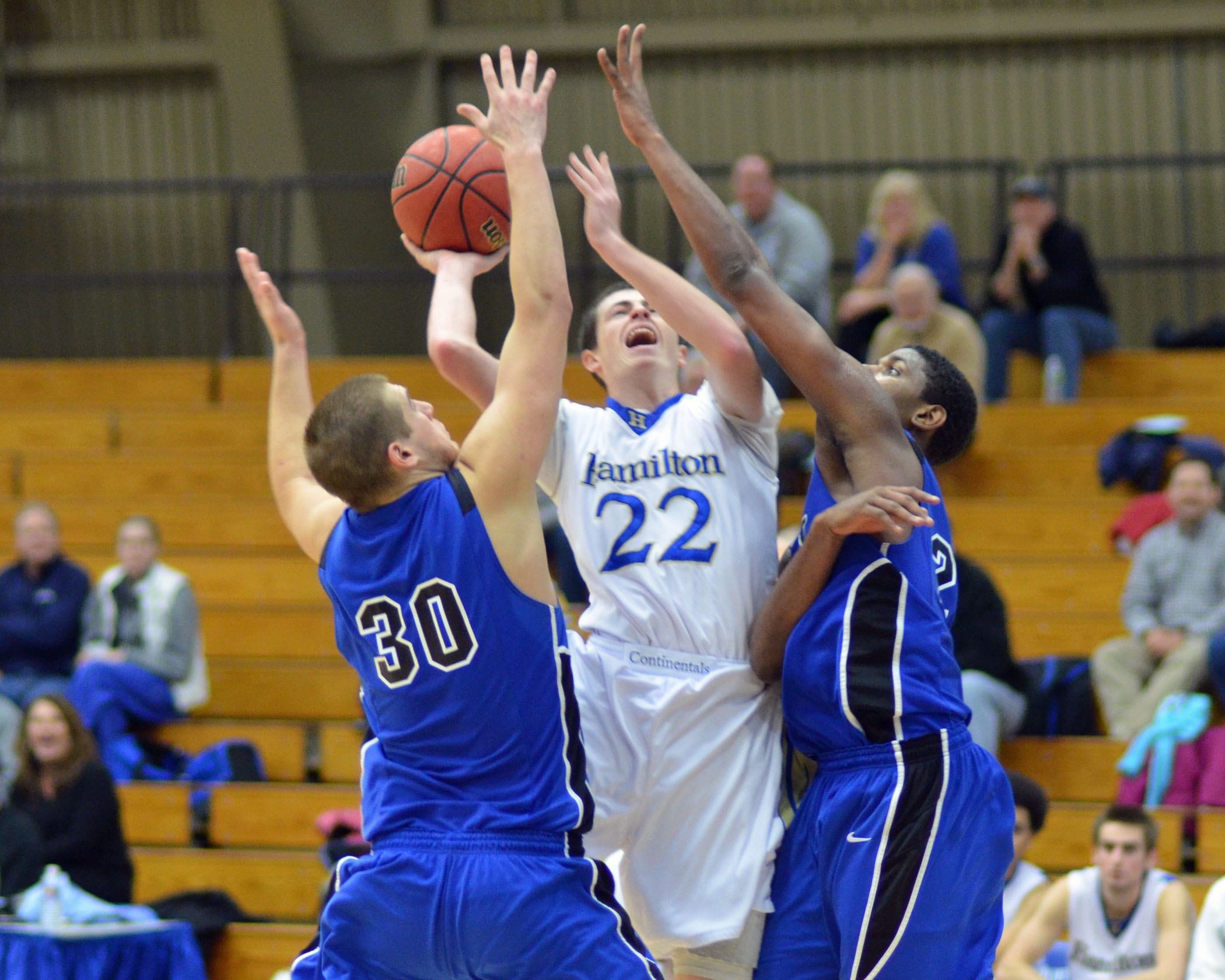 Five University of Rochester players scored in double figures and the Yellowjackets posted an 87-69 non-conference win against the Hamilton College Continentals at Rochester's Louis Alexander Palestra on Dec. 11.

Box Score

Tyler Sankes led the charge for the Yellowjackets with 22 points and added eight rebounds. Nate Vernon dropped in 21 points, Kevin Sheehy added 13 and Kyle Reardon and Jared Seltzer had 11 apiece. Sam Borst-Smith helped lead Rochester with nine boards, five assists and two steals. The Yellowjackets shot a season-best 57 percent (32-56) from the field and held a 42-25 advantage on the glass.

Matt Hart '16 poured in a career-high 29 points for Hamilton. Hart has scored 20 or more points five times in eight games this season. He was 9 of 20 from the floor, including 3 of 7 from 3-point range, and went 8-for-9 at the free-throw line.

Peter Kazickas '15 was the only other Continental in double figures with 12 points. Greg Newton '14 handed out a game-high six assists and was credited with three steals. Bradley Gifford '15 pulled down six rebounds and blocked two shots. Hamilton shot just 36.5 percent (23-63) from the field. The Continentals played less than 24 hours after they edged Morrisville State 82-80 at Margaret Bundy Scott Field House.

Rochester (5-5 overall) scored the first seven points and led 14-2 after five minutes. Hamilton cut its deficit down to eight points at 17-9 on a Hart 3-pointer with 11:33 left in the half. The Yellowjackets' lead peaked at 19 twice, first on a Vernon trey and again after two free throws by Sheehy that made it 42-23 with 3:13 left. Rochester led 49-32 at the half.

The Continentals (5-3) went on a 12-2 run midway and pulled within five points at 64-59 midway through the second half. Hart scored five points during the spurt and Kazickas ended it on a 3-pointer with 8:52 to go. A Joseph Lin '15 layup kept Hamilton within 67-61 with 7:39 to play. Sankes scored seven points and Vernon added five in a 13-3 burst that put Rochester comfortably ahead at 80-64 with just under three minutes remaining.

The Continentals are idle for final exams and winter break until Monday, Dec. 30, when they take on SUNY Brockport at Medaille College's Knee Center Holiday Tournament at 6 p.m.