Men's basketball win streak ends at four games
---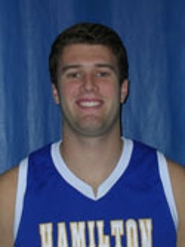 Skidmore College remained in the Liberty League title chase with a 71-55 win against Hamilton College in a league game at Skidmore's Williamson Sports Center on Feb. 4.

The result never seemed in doubt as the Thoroughbreds trailed just briefly early in the first half. Skidmore went on an 11-0 run and held the Continentals without a point for nearly six minutes to open a 32-17 lead with 1:58 to play in the first half. The hosts led 34-20 at the break.

The Thoroughbreds (13-7 overall, 7-2 Liberty) led by as many as 21 in the second half on the way to the season sweep. Skidmore edged Hamilton 75-72 on Jan. 15. Jeff Altimar led Skidmore with a game-high 16 points, and Gerard O'Shea added 10 points and six assists.

Pat Sullivan '12 scored 11 for Hamilton, and Ryan Wright '14 contributed 10 points. Max Shillalies '11 grabbed a game-high eight rebounds.

Skidmore's bench outscored the Continentals 31-19. The Thoroughbreds shot 48 percent (24-50) from the floor, while Hamilton struggled at 35.2 percent (19-54). Skidmore drained 11 shots from 3-point range.

Hamilton (11-6, 5-3) is at Union College for another league game on Saturday, Feb. 5.