Men's basketball wins 96-76 at SUNYIT
---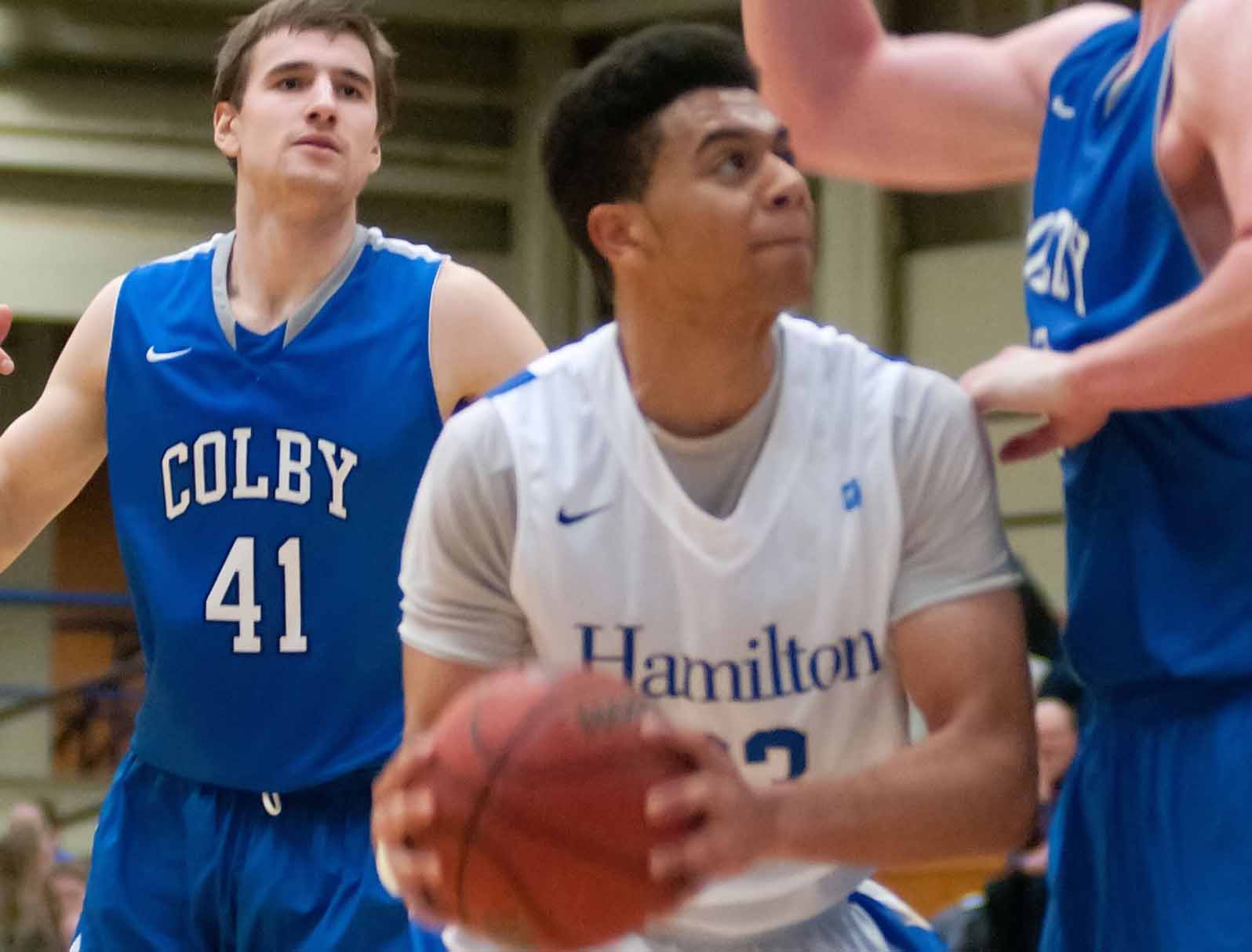 The Hamilton College Continentals scored a season-high 96 points and cruised past the SUNY Institute of Technology Wildcats 96-76 in non-conference action at SUNYIT's Campus Center Gym on Tuesday night.

Box score

Hamilton's Matt Hart '16 recorded his 12th 20-point performance of the season and led all scorers with 26 points. Hart leads the NESCAC with 21.1 points per game. Peter Kazickas '15 netted a career-best 20 points off the bench for the Continentals.

Hart made four 3-point baskets as the Continentals improved to 28-2 all-time against the Wildcats. Kazickas made eight of his 12 attempts from the floor and pulled down seven rebounds.

Ajani Santos '16 contributed a personal-best 12 points and eight rebounds for Hamilton, and Kyle Pitman '17 came off the bench to match a career high with 11 points. Bradley Gifford '15 and Matt Dean '14 matched Santos' team-leading total of eight rebounds.

Joseph Lin '15 led the Continentals (10-9 overall) with four assists and four steals. Dean scored six points and contributed three assists and a pair of steals off the bench. Hamilton's reserves outscored SUNYIT's 44-20.

Hamilton took control with a 12-2 run late in the first half after SUNYIT (10-5) had cut its nine-point deficit to three with 8:25 left. Kazickas netted six points during the run, which left the Continentals up 42-29 on their way to a 48-36 halftime advantage.

The Continentals led by at least 12 points the entire second half. Hamilton stretched its lead above 20 points for the first time on a Kazickas 3-pointer with 6:46 left that made it 83-61.

Malcolm Jones '16 led five Wildcats in double figures with 13 points. Jones added game-best totals of nine rebounds, five assists and three blocked shots. Alexander Drake '15 scored 12 points and Maverick Hodge '15, Ryan James '14 and Alonzo Graninger '16 contributed 11 each.

The Continentals' 20 assists, 45 rebounds and plus-14 rebound margin were all their second-highest performances this season.

Hamilton returns to NESCAC play on Sunday, Feb. 2, against Middlebury College at 4 p.m. at Margaret Bundy Scott Field House. The Wildcats play a 6 p.m. game at Penn State-Berks on Friday.