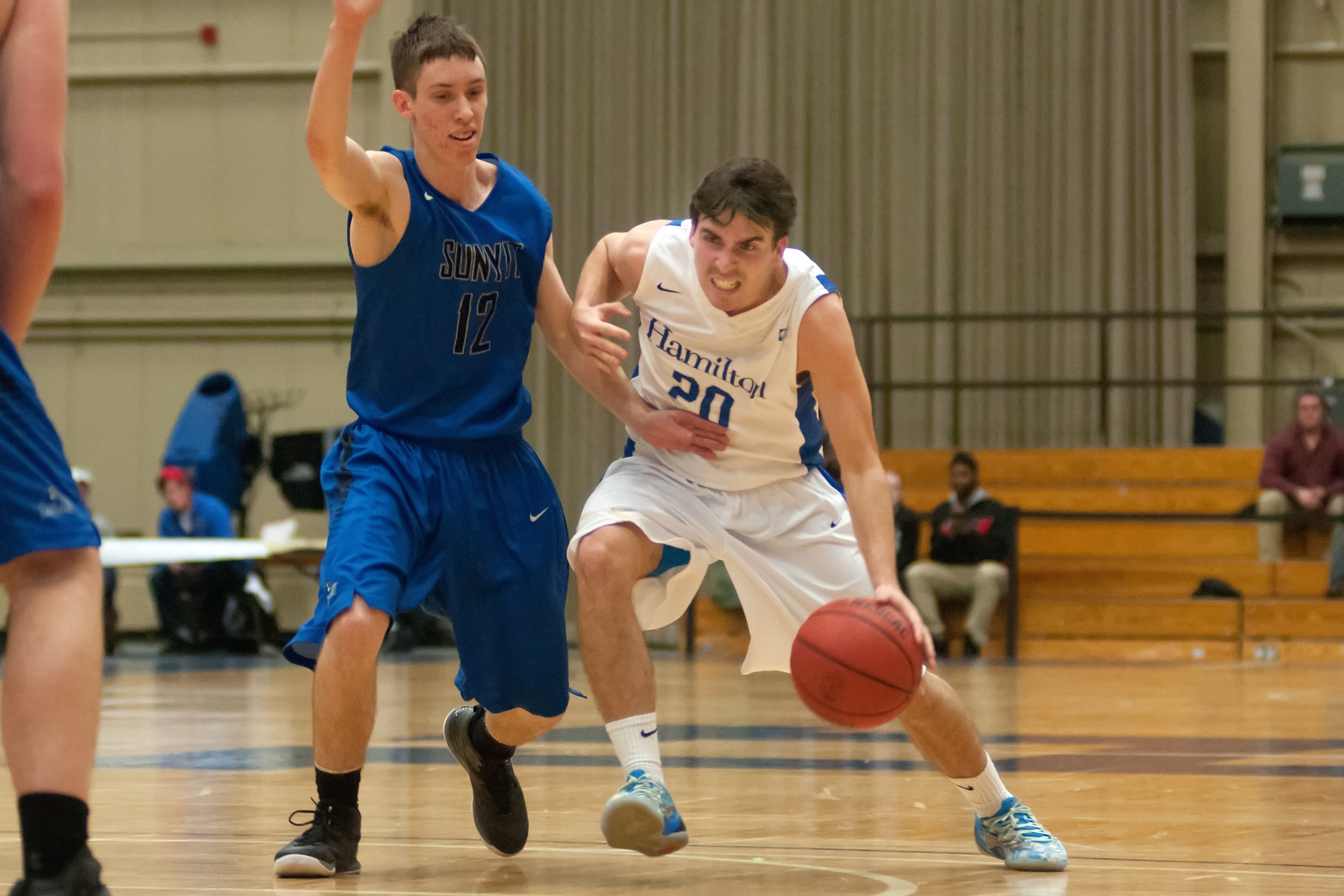 Hamilton College received 44 points from its bench and the Continentals rallied for a 76-73 win against the Keuka College Wolfpack at Rochester Institute of Technology's Harold J. Brodie Tournament on Friday night.

Box Score

Hamilton (1-0 overall) takes on the hosts for the tournament title on Saturday, Nov. 21, at 3 p.m. Keuka dipped to 0-2 and plays D'Youville College in the consolation game. RIT defeated D'Youville 98-82 in the evening's second game.

Jack Donnelly '16 gave the Continentals a spark off the bench with his 17 points and three steals. Donnelly made 4 of 6 shots from beyond the arc and helped Hamilton shoot 46.7 percent (7-15) from long range and 50 percent (29-58) overall.

Jack Dwyer '18 chipped in 14 points and five assists for the Continentals. Peter Hoffmann '19 scored nine points in his first collegiate action and Wes Wilbur '17 contributed eight points and six assists. Kyle Pitman '17 was a perfect 3 of 3 from the field with a pair of 3-pointers and finished with eight points. Andrew Groll '19 was credited with three blocked shots in his first game at Hamilton.

The Wolfpack were led by Josh Wahnon's 17 points. Casey Williams scored 16 points and grabbed seven rebounds and Devin Cooper registered 11 points and seven boards off the bench. Keuka held a 40-32 advantage on the glass. Cliff Stevens dropped in 10 points and Greg Tyler handed out six assists.

The Continentals grabbed their first lead at 53-52 on a dunk by Hoffmann with 11:14 left. Neither team led by more than five points down the stretch and there were three ties and four lead changes. Ajani Santos '16 gave Hamilton the lead for good at 67-66 on a layup with 4:02 remaining. Dwyer nailed a jumper 30 seconds later and, after a free throw by Cooper pulled the Wolfpack within two, Hoffmann drained a 3-pointer that made it 72-67 with 2:30 to go.

A basket by Wahnon and two free throws by Williams got Keuka back within one at 72-71 with 1:42 left. A couple of empty trips for both teams ate more than a minute off the clock and the Wolfpack were forced to foul Dwyer, who made both free throws for a three-point lead with 24 seconds remaining.

Tyler made it a one-point game again on a layup with 11 seconds to go but Hoffmann made it 76-73 with two free throws with six seconds left. Keuka had a chance to tie before the final buzzer but Wahnon's 3-point attempt was off the mark.

The Wolfpack led for the entire first half except for an early 3-3 tie. Keuka took its biggest lead of the night at 27-17 on a Williams 3-pointer with 8:11 to go. The Continentals were almost able to erase their entire deficit after Pitman pulled Hamilton within 39-38 on a 3-pointer with 52 seconds left. Miles Boyer beat the buzzer for Keuka and sent the Wolfpack into the locker room with a slim 41-38 lead.