Men's basketball wins Thanksgiving Tournament opener
---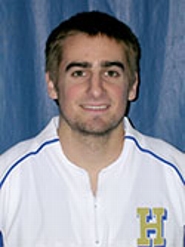 Greg Newton '14 matched his season high with 19 points and Hamilton College defeated Union College 73-67 in the 2012 Hamilton College Thanksgiving Tournament at Hamilton's Margaret Bundy Scott Field House on Nov. 24.

Hamilton (2-1 overall) advances to the tournament's championship game to play New York University, which routed Utica College 78-57 in the opener. The championship is Sunday, Nov. 25, at 3 p.m. and Union plays Utica in the consolation game at 1.

Newton, who was a perfect 7-for-7 at the free-throw line, was one of four Continentals who reached double figures in points. Matt Hart '16 poured in 13 points in his first collegiate start. Ken Click '13 added 12 points and Bradley Gifford '15 came off the bench to chip in 11 points and two blocks.

Marlon Bascombe '14, Peter Kazickas '15 and Ajani Santos '16 all grabbed a team-high six rebounds. Newton and Matt Dean '14 dished out three assists apiece.

Keven Donohue '13 led all players with 25 points and eight rebounds for the Dutchmen (1-1). Evan Croll '13 scored 14 points on 5-of-6 shooting and was credited with three steals. Joe Mason '13 contributed 11 points, three steals, two blocks and a game-high four assists.

Hamilton jumped out to an 11-4 lead as Newton accounted for four points. Hart hit a pair of 3-pointers to help keep the Continentals up by seven at 21-14 with 6:38 left. Click and Newton scored back-to-back baskets late in the first half to give Hamilton its largest lead at 31-21 with just over a minute to play.

A free throw by Donohue and a Matt Petrone '13 layup cut the Union deficit back to seven with 53 seconds remaining. On Hamilton's final possession, Joseph Lin '15 drained a 3-pointer as time expired to give the home team a 34-24 advantage at the break. The Dutchmen shot just 29.6 percent (8-27) from the field in the opening 20 minutes.

After Croll hit a three for Union just 19 seconds into the second half, the teams traded baskets until the Continentals led 40-33 with 16:08 to play. Donohue hit a free throw and Croll converted a layup to get within 40-36. But Gifford, who scored all 11 of his points in the second half, knocked down a three from the top of the key and added two free throws to extend the Hamilton lead to nine.

Union and Hamilton traded the next four baskets before Click scored on a layup to give the Continentals a 51-40 lead. Donohue hit a three to get the Dutchmen back to within single digits. Two free throws by Gifford and baskets by Click and Newton gave the Continentals their largest lead at 57-44 with 6:38 left.

The Dutchmen got the Hamilton lead back down to nine again, but Gifford nailed his second three for a 60-48 cushion with 5:15 to go. The Continentals went 6-for-8 at the free throw line down the stretch and still led by 12 at 66-54 with 1:12 to play.

Layups by Mason, Keith Callies '14 and Croll within 28 seconds of each other got Union to within 66-60 with 46 seconds remaining. Out of a Hamilton timeout, Dean threw a home run pass to a streaking Hart for the layup.

Mason came back down and made a layup for the Dutchmen, but the Continentals broke the press again. This time Dean found a wide open Lin underneath the basket for a 70-62 lead. Dean made one free throw and Newton connected on two in the final seconds to seal the victory.

The Continentals controlled the boards, 41-29, and shot 85.7 percent (18-21) at the free-throw line. Union made 60 percent (12-20) of its free throws.