Men's basketball wins third straight
---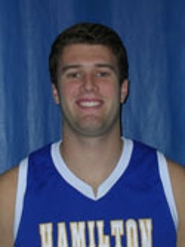 Pat Sullivan '12 scored 15 points and grabbed seven rebounds to lead Hamilton College to a 63-56 win against Clarkson University in a Liberty League men's basketball game at Hamilton's Margaret Bundy Scott Field House on Jan. 28.

The Continentals (10-5 overall, 4-2 Liberty) stretched their win streak to three games. Hamilton leads the all-time series, 67-18.

Sullivan entered the night with a league-leading scoring average of 17.9 points per game. He has scored in double figures in all but two games this season. Ephraim McDowell '12 chipped in nine points, and Matt Dean '14 and Ken Click '13 added eight apiece. Click also blocked three shots.

Felix Llanos '12 paced Clarkson with a game-high 25 points. Llanos made four of the Golden Knights' eight 3-pointers. Rey Jefferson '11 had eight points and Nate Uline '14 grabbed seven boards. Marques Charlton '14 came off the bench to score seven points, hand out five assists and make three steals. Clarkson had 16 assists on 20 made field goals.

The Continentals jumped out to an early 10-3 lead, but the Golden Knights recovered to tie the score at 14-14. Clarkson then took an 18-16 lead on a layup by David Cieri '13 with 10:08 left in the half. Two Sullivan free throws tied the score again before Tyler Barron '12 drained a 3-pointer to put the Golden Knights back up 21-18. The three-point advantage turned out to be Clarkson's largest of the night.

Hamilton seized the lead for good with a 15-3 run. McDowell dropped in two 3-pointers during the spurt, including one that gave the Continentals a 33-24 lead 3:41 before the break. The Golden Knights closed the half with an 8-2 run to cut their deficit to three points at 35-32 at the half.

Clarkson (10-7, 2-4) trimmed the Hamilton advantage to 37-35 on a 3-pointer by Barron, but didn't get any closer than that the rest of the night. The Continentals responded with a 12-2 run for a 49-37 lead with 11:04 remaining. Six different Hamilton players scored during the run.

The Continentals still led 57-46 with six minutes left before the Golden Knights tried to rally one last time. Llanos scored eight straight points to pull Clarkson within 57-54 with 3:49 remaining. However, Hamilton's defense didn't allow another field goal, and the Continentals went 6-for-8 at the line down the stretch.

Neither team shot particularly well from the field as the Golden Knights were at 39 percent and Hamilton was at 38 percent. The Continentals enjoyed a big 40-29 rebounding advantage, and made more free throws (16) than Clarkson attempted (10).

Hamilton hosts St. Lawrence University for another league game on Saturday, Jan. 29. The Golden Knights travel to league leader Hobart College on Saturday as well.