Men's basketball wins Tip-Off Tournament
---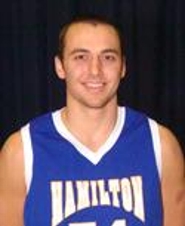 Hamilton College captured its own Tip-Off Tournament for the fifth straight year with a 79-78 win against visiting Ursinus College at Margaret Bundy Scott Field House on Nov. 21.

Hamilton's Dayne Harris '11 was named the tournament's Most Valuable Player, and Jay Simpson '10 made the all-tournament team. Harris scored a career-high 23 points to rally the Continentals (2-0 overall) to victory in the title game.

Pat Sullivan '12 added 12 points for the Continentals before he fouled out. Jon Ciriello '11 chipped in 11 points and a game-high eight rebounds. Eric Benvenuti '13 made three three-pointers off the bench and finished with 11 points. Jay Simpson '10 recorded nine points and a career-high nine assists.

Hamilton trailed by as many as seven points in the first half and by five early in the second half. A basket by Joe Manns '10 put the Continentals ahead to stay at 74-73 with 1:06 left. Two free throws by Tim Shaw '10 with five seconds left put Hamilton ahead by two possessions at 79-75.

Trailing by four with time running out, an Ursinus player was fouled while attempting a three-point shot with 1 second left. The Bears made all three free throws, including the last one off the backboard on an obvious attempt to miss and give teammates a chance at the tying putback, and Hamilton ran out the clock after the inbounds pass.

The largest lead for either team was seven points, and there were 11 ties, including 40-40 at the half. Hamilton shot 46 percent from the field and 45.5 percent from three-point range.

The Continentals return to action on Saturday, Nov. 28, when they travel to Wells College for a non-league game at 3 p.m.