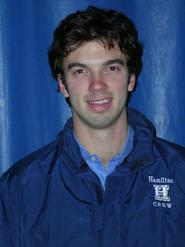 Hamilton College men's crew alum Willy Cowles '09 (Farmington, Conn.) will compete in the 2014 USRowing Senior II World Championship Trials at Mercer Lake in West Windsor, N.J., from August 3 to August 6.

Cowles is entered in the men's double sculls and is paired with Sam Stitt. They are one of two Potomac Boat Club entries for that race. The race winner earns a spot on the U.S. National Team for the 2014 World Rowing Championships, which begin on August 24 in Amsterdam, Netherlands.

Complete list of entries for the men's double sculls

Cowles collected national titles in all three races he competed in at the 2014 USRowing National Championships at Lake Mercer on June 27. Cowles won the men's single sculls with a time of 7:41.31, and he and Sam Stitt finished first in the men's double sculls with a time of 6:50.24. Cowles made it 3-for-3 as he, Stitt and two other rowers topped the field in the men's quadruple sculls in 6:18.83.

Cowles competed for the U.S. National Team at the 2014 World Cup in Australia. He raced to a fourth-place finish in the men's double sculls and won a gold medal in the same event at the Australian Championships. Cowles also represented the U.S. at the Lucerne World Cup in Switzerland and the E.On Hanse Regatta in Germany last year. He racked up three national titles and a double sculls win at the 2013 National Selection Regatta #2.