Men's cross country places ninth at NESCAC championships
---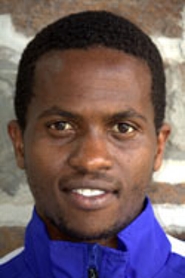 Hamilton College's Peter Kosgei '11 won an unprecedented fourth individual title at the 2010 New England Small College Athletic Conference cross country championships held on the Hamilton campus on Oct. 30.

No male or female runner had won four individual championships in the 28-year history of the event. Kosgei's 8-kilometer time of 26:06.8 was more than 15 seconds faster than the runner-up from Middlebury College. A total of 127 athletes competed in the men's race.

The Continentals finished ninth of 11 in the team standings with 211 points. Middlebury ran to its first men's title with three runners in the top 10, and ended up with 78 points. Williams College came in second with 94 points, and Tufts University was third with 103.

James Grebey '12 finished 42nd for Hamilton with a time of 27:34.3, Devon Lynch '11 was 51st in 27:45 and Scott Bickard '11 finished 58th in 27:52.5. Todd Woodworth '12 rounded out the top five with a time of 28:54.8.

The Continentals are off until Saturday, Nov. 13, when they compete in the 2010 NCAA Division III Atlantic Regional championships in Oneonta, N.Y.