Men's cross country competes in Lehigh invitational
---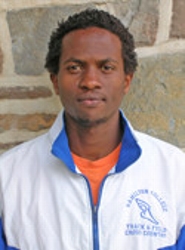 Peter Kosgei '10 earned a new career-best time in Lehigh University's 36th annual Brooks Paul Short Run in Bethlehem, Pa., on Oct. 2.
Kosgei competed as an individual in the Gold race, which featured the best competition the meet had to offer. He finished fourth out of 386 runners with a time of 23:42 as 35 of the 42 teams competing were Division I or Division II programs.
Kosgei finished two seconds behind the winner from North Carolina State University. Runners from Iona College and Indiana University took second and third place, respectively. A runner from Cornell University rounded out the top five.
Kosgei's time beat his previous career best recorded at the 2007 NCAA Atlantic regional championships by 36 seconds. This is only the second time in Kosgei's Hamilton career that he has not won a race that he finished.
The Hamilton men's team took 29th place of 38 teams in the Brown race. All of the top five finishers for the Continentals recorded career-best times. Will Reid '10 led Hamilton as he finished 56th of 323 runners with a time of 26:11. Scott Bickard '11 took 91st place in 26:28. James Grebey '12 was the next Continental to cross the finish line in a time of 26:50. Rounding out the top five for Hamilton were Devon Lynch '11 (26:54) and Louis Winkler '10 (27:15).
The Continentals finished with a total of 633 team points. Division II Wayne State University took first place with 184 points. Adelphi University -- another Division II program -- finished second with 190 points, and Johns Hopkins University placed third with 272 team points.
The Continentals next compete at home in their own invitational on Oct. 10 at 11 a.m.