Men's cross country runner earns regional honor
---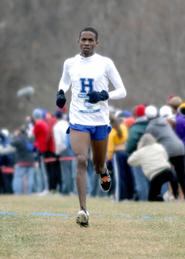 Hamilton College's Peter Kosgei '10 (Kapsabet, Kenya/Kapsabet Boys' HS) has been selected the 2009 NCAA Division III men's cross country Atlantic region's athlete of the year award from the U.S. Track & Field and Cross Country Coaches Association.
Kosgei earned the regional honor for the third straight year. He has won four of the five races he finished this season, including the Atlantic regional championships on Nov. 14. He recorded a course-record time of 24 minutes, 40.6 seconds, at Letchworth State Park in Mount Morris, N.Y.
Earlier this year, Kosgei finished first at the New England Small College Athletic Conference championships. He recorded his best collegiate time in Lehigh University's Brooks Paul Short Run on Oct. 2, when he finished fourth overall and first among non-Division I athletes with a time of 23:42.
Kosgei competes in the NCAA Division III men's cross country championships at Highland Park Golf Course in Cleveland, Ohio, on Saturday, Nov. 21, at noon. He won the individual national title at the 2008 championships in Hanover, Ind., and finished second in 2007 in Minnesota. He owns a total of nine NCAA titles between cross country and indoor and outdoor track and field.