Men's cross country finishes 10th at NCAA regionals
---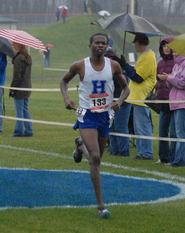 Peter Kosgei '10 captured his second straight NCAA Division III Atlantic Regional title as he helped Hamilton College to 10th place at St. Lawrence University's 8,000-meter Ronald C. Hoffmann Cross Country Course on Nov. 15.
Kosgei, the only Hamilton men's runner to ever win the event, finished 14.1 seconds ahead of the rest of the field with a time of 25:18.8. He is just the fifth athlete to win two Atlantic Region men's individual crowns since 1988.
Kosgei has now won 18 of 19 cross country races for Hamilton. He finished second at the 2007 NCAA Division III championship. Kosgei will have the chance to avenge that misstep at the 2008 national meet at Hanover College in Hanover, Indiana, on Saturday, Nov. 22.
The next finisher for Hamilton was Will Reid '10, who finished 50th with a time of 27:10. Scott Bickard '11 finished 78th in 27:40 and Devon Lynch '11 crossed 97th in 28:02. Kevin Kerr '10 rounded out the Hamilton top five finishing with a time of 28:08, good for 106th place.
Hamilton put together 332 points to secure 10th place in the 34-team field. SUNY Cortland won the team title with 47 points.