Men's cross country finishes third at Oneonta
---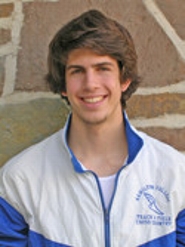 Hamilton College placed third of seven teams at the 2011 SUNY Oneonta Airfield Invitational in Oneonta, N.Y., on Sept. 17.

Results

James Grebey '12 led the Continentals with a career-best time of 25 minutes, 48 seconds on the 8-kilometer course, and finished second overall. Hashem Zikry '13 also finished in the top 10 for Hamilton, placing ninth in 26:33. Ben Yeo '14 was close behind in 11th place with a time of 26:50.

Will Robertson '14 was 20th with a time of 27:28. Robert Hayden '14 rounded out the top five for Hamilton and finished 29th with a time of 27:51. Todd Woodworth '13 was right behind in 30th place with a time of 27:59. The winning time was 25:15.

SUNY Oneonta and DeSales University tied for first place with a total of 45 points each. The Continentals were next with 62, and SUNY Delhi was fourth with 100 points.

Hamilton competes in another invitational hosted by SUNY Geneseo on Saturday, Oct. 1.