Men's cross country places 12th at NCAA regionals
---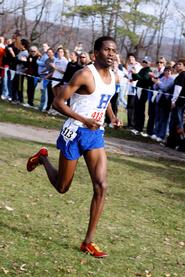 Peter Kosgei '10 captured his third straight individual title, and Hamilton College placed 12th out of 38 teams at the 2009 NCAA Division III Atlantic regional cross country championships held at Letchworth State Park in Mount Morris, N.Y., on Nov. 14.
Kosgei completed the 8,000-meter course with a time of 24 minutes, 40.6 seconds, and earned all-region honors. Kosgei finished 13.2 seconds ahead of the runner-up from SUNY Plattsburgh and the rest of the 264-runner field. Kosgei will defend his national title at the NCAA Division III championships at Highland Park Golf Course in Cleveland, Ohio, on Saturday, Nov. 21.
Scott Bickard '11 was next to finish for the Continentals in 62nd place with a time of 26:45.3. Will Reid '10 came in 67th place and recorded a time of 26:49.3. Taking 97th place was Garrett Armbruster '10 with a time of 27:30.7. James Grebey '12 rounded out the top five finishers for Hamilton in 106th place in 27:39.0.
The Continentals had a team total of 333 points. SUNY Cortland finished in first place with 49 team points. SUNY Geneseo took second with 64 total points, and New York University finished in third with 79 team points.