Men's cross country places 13th at NCAA regionals
---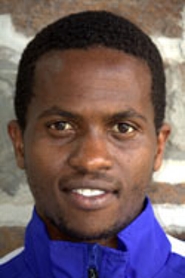 Peter Kosgei '11 finished fourth as Hamilton College placed 13th out of 39 teams at the 2010 NCAA Division III Atlantic Region championships at Fortin Park in Oneonta, N.Y., on Nov. 13.

Kosgei qualified as an individual for the NCAA Division III championships for the fourth straight year. The top seven individuals not from a team qualifier advance to the national meet from each of the eight regions. Two of the three runners that finished ahead of Kosgei were from SUNY Geneseo, which won the team title with 47 points. St. Lawrence University was a close second with 55.

This year's NCAA championships are at Wartburg College in Waverly, Iowa, on Saturday, Nov. 20. The men's race starts at noon eastern time, and 11 a.m. local time. Kosgei finished second in 2007, won the national title in 2008, and was 43rd last year.

Kosgei's time on the 8-kilometer course was 24:52.8. A total of 268 runners competed in the event. The winning time was 24:27.8. Hamilton finished with 384 team points.

Scott Bickard '11 was next for the Continentals in 45th place with a time of 26:14.8. Devon Lynch '11 crossed the finish line in 88th place with a time of 26:55.8. James Grebey '12 ended up 101st in 27:11.9, and Todd Woodworth '13 rounded out Hamilton's top five with a time of 27:53.8.