Men's cross country places 15th at Oneonta
---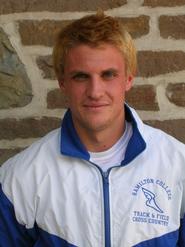 Hamilton College finished in 15th place at the 19-team SUNY Oneonta Airfield Invitational held at Fortin Park in Oneonta, N.Y., on Sept. 17.
Peter Kosgei '11, who won the individual title at the 2008 NCAA Division III championships and is a two-time cross country All-American, did not compete. Scott Bickard '11 led Hamilton with a career-best time of 26:03.3 on the 8-kilometer course and finished 25th out of 288 runners.
Devon Lynch '11 was next in 142nd place and a time of 27:29.4. James Grebey '12 crossed the finish line in 28:10.7 and Dylan Thayer '13 was close behind with a time of 28:15.8. Sam Dupuis '13 rounded out the top five with a time of 28:18.6.
The Continentals ended up with 425 team points. St. Lawrence University (42 points) edged SUNY Geneseo (60) for the team title. The winning individual time was 24:43.
Hamilton is off until Oct. 1, when the Continentals travel to Lehigh University for the Paul Short Invitational.