Men's cross country places 7th at state meet
---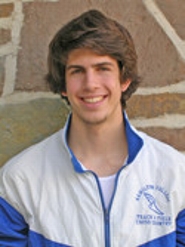 Hamilton College finished in seventh place out of 10 teams at the 2011 New York State Collegiate Track Conference (NYSCTC) championships held at St. Lawrence University in Canton, N.Y., on Oct. 22.

Full results

James Grebey '12 and Hashem Zikry '13 made the NYSCTC all-conference team based on their performance at the championship meet. The top 21 runners make the all-conference team.

Grebey earned a spot on the first team after he finished sixth out of 112 runners with a time of 25 minutes, 58 seconds on the 8-kilometer course. Zikry earned a place on the third team as he finished 19th in 26:58.

Benjamin Yeo '14 was 43rd with a time of 27:43 and Robert Woodworth '13 finished 64th in 28:20. Robert Hayden '14 rounded out Hamilton's top five in 70th place with a time of 28:33.

The race winner's time was 25:46. Nationally ranked No. 10 St. Lawrence captured the team title with 31 points, and No. 27 University of Rochester was runner-up with 53. Rensselaer was a distant third with 107 points and the Continentals finished with 157.

Hamilton competes in the 2011 NESCAC championships at Amherst College on Saturday, Oct. 29.