Men's cross country places 9th at Geneseo
---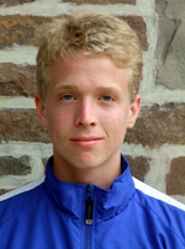 Hamilton College's Adam Pfander '16 paced the Continentals to ninth place out of 19 teams at the 35th annual SUNY Geneseo Cross Country Invitational, which was held at Letchworth State Park on Oct. 5.

Complete Results

Pfander finished in third place out of 255 runners with a personal-best time of 25 minutes, 34.7 seconds on the 8-kilometer course. The winning time of 25:15.6 was recorded by Geneseo's Cohen Miles-Rath.

Hamilton's Will Robertson '14 ended up in 74th place with a time of 27:12.3. Evan Abelson '16 was 95th in 27:28.6, Jack Moses '16 was two spots back of Abelson with a time of 27:28.9 and Harry Sullivan '16 finished 99th in 27:29. Sullivan's time was a personal record.

The Continentals posted a team score of 266 points. Nationally ranked No. 35 Geneseo captured the team title with 34 points, No. 26 University of Rochester was runner-up with 112 and Vassar College finished third with 117.

Hamilton hosts its own invitational on campus on Saturday, Oct. 12, at noon.