Men's cross country places second in own invitational
---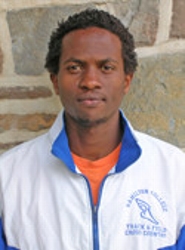 Hamilton College's Peter Kosgei '10 finished first out of 164 runners to lead the Continentals to second place in their own 13-team invitational on Oct. 10.
Kosgei finished the sloppy 8,000-meter course with a time of 26:00.2. He finished 30.3 seconds ahead of the runner-up from Queen's University (Canada). Hamilton's top five runners finished in the top 20.
The next finisher for the Continentals was Will Reid '10, who took 10th place with a time of 27:20.9. James Grebey '12 was next for Hamilton in 13th place in 27:36.1. Crossing the finish line right after Grebey was Scott Bickard '11, who took 14th place in 27:41.7. Rounding out the top five for Hamilton was Devon Lynch '11 in 18th with a time of 27:50.2.
The Continentals finished with a team score of 56 points. Queen's finished in first place with 27 team points. Ithaca College took third with 69 team points.
Hamilton next competes at the New York State Collegiate Track Conference Championships at Genesee Valley Park in Rochester, N.Y., on Oct. 24.