Men's cross country places seventh at NESCAC championships
---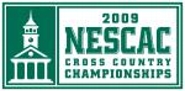 Peter Kosgei '11 captured his third straight individual title and Hamilton College placed seventh in the 2009 NESCAC championships at Wickham Park in Manchester, Conn., on Nov. 1.
Kosgei finished the 8,000-meter course -- ahead of the other 120 runners -- in 25 minutes, 40 seconds. Kosgei is the second male athlete to win three NESCAC cross country individual championships in a row, and just the third to own three NESCAC titles in a career. Kosgei crossed the finish line 17 seconds ahead of the runner-up from Williams College.
Will Reid '10 was the next finisher for Hamilton in 34th place with a time of 27:45. James Grebey '10 came in 45th place in 27:58. Next for the Continentals was Scott Bickard '11, who finished 52nd in 28:03. Devon Lynch '11 rounded out the top five with a time of 28:06 and came in 54th place.
Hamilton finished with a total of 176 points. Williams finished first in the 11-team field with 40 team points. Amherst College finished in second place with 88 points, and Tufts University took third with 90 team points.
The Continentals next race at the NCAA Division III Atlantic regional championships, which will be held at Letchworth State Park in Geneseo, N.Y., on Saturday, Nov. 14.