Men's cross country places 3rd in Hamilton Invitational
---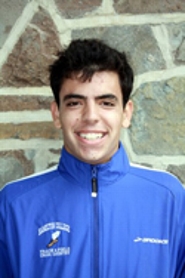 Hamilton College finished in third place out of 14 schools at the 2012 Hamilton College Invitational on Oct. 6.

Results

Hamilton's top finisher was Hashem Zikry '13 in seventh place as he completed the 8-kilometer course in 26 minutes, 42 seconds. Zikry's performance ranks second on the program's top home course times behind only Peter Kosgei '11. Kosgei, who actually competed as an alum during Fallcoming Weekend, captured the individual title with a time of 25:42.2.

The next four finishers for the Continentals were freshmen and all four placed in the top 25. David Freeman '16 finished 14th out of 133 runners in a time of 27:07.3, which ranks eighth on the top course times.

Nathan Arndt '16 and Evan Abelson '16 finished back-to-back in 19th and 20th place, respectively. Arndt crossed the line with a time of 27:29.3, which was good for 15th on the top course times. Abelson was right behind in 27:31.9, which now ranks 17th.

Jack Moses '16 rounded out the scoring for Hamilton as he finished 23rd and completed the race in 27:34.7. His time ranks 18th on the top course times list. Will Robertson '14 was the sixth Continental across the line with a time of 27:38, which barely placed him on the top home course times list in 20th place.

Division II East Stroudsburg University claimed the team title with a score of 22 points. Ithaca College was runner-up with 55 points and Hamilton ended up with 74.

The Continentals take next weekend off before returning to the trails for the New York State Collegiate Track Conference championship at Center Park in Fairport, N.Y., on Saturday, Oct. 20.