Men's cross country runner earns conference honor
---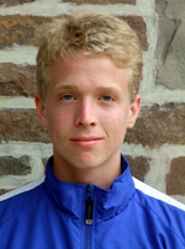 Hamilton College's Adam Pfander '16 (Newfane, Vt./Concord Academy [Mass.]) was selected the New York State Collegiate Track Conference Runner of the Week for men's cross country on Oct. 7.

Pfander paced Hamilton to ninth place out of 19 teams at the 35th annual SUNY Geneseo Cross Country Invitational, which was held at Letchworth State Park on Oct. 5. He finished in third place out of 255 runners with a personal-best time of 25 minutes, 34.7 seconds on the 8-kilometer course.

The Continentals posted a team score of 266 points. Nationally ranked No. 35 Geneseo captured the team title with 34 points, No. 26 University of Rochester was runner-up with 112 and Vassar College finished third with 117.

Hamilton hosts its own invitational on campus on Saturday, Oct. 12, at noon.