Men's cross country ties for third at Oneonta
---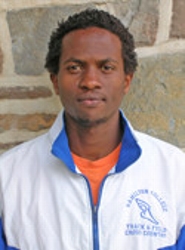 Hamilton College's Peter Kosgei '11 finished first of 95 runners and shattered his previous course and meet record at the SUNY Oneonta Airfield Invitational on Sept. 18.
Kosgei finished with a time of 18:01 and was 29 seconds ahead of the runner-up on the 6,000-meter course. On Sept. 19, 2008, Kosgei won the invitational and set course and meet records with a time of 18:26.
Will Reid '10 was the next runner to finish for Hamilton in 10th place with a time of 19:57. Scott Bickard '11 was right behind Reid in 11th with the same time. Next to cross the finish line for the Continentals was Devon Lynch '11, who came in 22nd place with a time of 20:13. Rounding out the top five runners for Hamilton was James Grebey '12, who finished in 36th place at 20:39.
The Continentals had a total of 72 team points to tie for third place with SUNY Delhi. SUNY Plattsburgh took first place in the six-team field with a total of 33 team points. Oneonta had 71 points and finished second.
Hamilton next travels to compete in the Lehigh University Invitational on Oct. 2.