Men's cross country wins opening invitational
---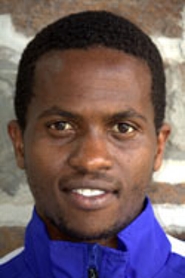 Peter Kosgei '11 led Hamilton College to first place in Hamilton's own five-team short course invitational on Sept. 11.
Kosgei, who has captured nine NCAA Division III individual titles in cross country and track and field, was competing in his first event since he finished 43rd at the 2009 NCAA cross country championships while he was fighting the flu. He finished first in this race with a time of 18 minutes, 50.0 seconds, on the 6-kilometer course. A total of 70 runners competed.
The Continentals' winning team score was 35 points. SUNY Cortland was second with 42 and Division II Mansfield University was third with 59. Cortland is tied for 34th in the preseason Division III Top 35 coaches poll.
Scott Bickard '11 finished third for Hamilton with a time of 19:16.5. James Grebey '12 was fourth in 19:32.6 and Devon Lynch '11 came in seventh as he crossed the finish line in 19:58.0. Sam Dupuis '13 rounded out the team's top five in 26th place with a time of 20:59.7.
The Continentals compete in SUNY Oneonta's Airfield Invitational on Friday, Sept. 17, at 4 p.m.