Men's golf advances to 2013 NESCAC Championship
---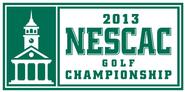 Hamilton College punched its ticket to the 2013 NESCAC Men's Golf Championship as the Continentals finished third out of 10 teams at the NESCAC Championship Qualifier, which was held at Hickory Ridge Golf Club in Amherst, Mass., on Sept. 29 and 30.

Results

Hamilton advances to the conference championship for the fifth time in six years since the qualifier was introduced in 2007. Trinity College finished in first place and will host the championship in late April. Williams College and defending champion Middlebury College round out the four teams that will vie for the NESCAC's automatic bid to the 2013 NCAA Division III Championship.

Mac Pivirotto '15 led the Continentals with a two-day total of 151 that put him in sixth place out of 50 golfers. Pivirotto's 36-hole score was tied for his best at Hamilton, as was his 3-over-par 75 on Saturday on the 6,704-yard layout.

Greg Scott '14 was his regular solid self for the Continentals with rounds of 77 and 76. Scott's 153 total was good for a tie for 11th place with teammate Matt Yung '16. Yung fired the tournament's low round of the day on Saturday with a season-best 73.

Julian Ophals '14 tied for 16th place after he posted a 73 on Sunday and ended up with a two-day total of 154. Ophals' 73 was just one stroke off his career-best at Hamilton.

The Continentals stood in second place just two shots behind Trinity after the first day with a four-man team total of 306. Hamilton could do just one shot better as a team on Sunday, and finished the tournament at 611.

Trinity finished at 592, including a scorching team score of 288 on the final day, and all of the Bantams shot in the 70s during the weekend. Williams was second at 607 and Middlebury took fourth place at 613. Trinity's Greg Palmer earned medalist honors with a 3-over-par 147.

The Continentals wrap up the fall portion of their schedule with the Hamilton Invitational on Saturday and Sunday, Oct. 6 and 7. The first round is at Yahnundasis Golf Club in New Hartford and the second round is at The Skenandoa Club --the Continentals' home course -- in Clinton.