Men's golf captures Oswego Invitational title
---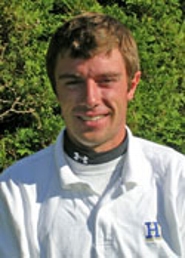 Hamilton College finished first by 27 strokes in the 36-hole SUNY Oswego Spring Invitational that was held on April 30 and May 1 at Oswego Country Club.

Full results

The tournament title is the second for Hamilton this spring. The Continentals won their own Hamilton Spring Invitational on April 12. The team score of 598 at Oswego is the second-best performance in program history, and just one shot off the record.

Greg Scott '14 ran away with medalist honors thanks to more record-breaking rounds for the Continentals. Scott tied a team record with a 4-under 67 in Saturday's first round. Tom Ferrero '04 also shot 67 in April 2004 at Washington & Jefferson College's Rossin Memorial tournament.

Scott posted a 72 on Sunday to finish 11 shots ahead of the rest of the field. His two-day total of 139 is a program record. He played nine rounds in the spring without anything worse than a bogey on any hole.

Julian Ophals '14 tied for second out of 49 golfers at 150 for the two days. Ophals followed a 78 on Saturday with a season-best 72 on Sunday.

Knute Gailor '13 finished sixth at 153 after rounds of 78 and 75. The 75 he carded on Sunday is his best round at Hamilton. Carter White '14 fired a season-best 75 on Saturday, and finished seventh at 156.

The Continentals' four-man total was 298 on Saturday and 300 on Sunday. Daemen College finished second at 625. Oswego CC has a par of 71 and measures 6,410 yards.