Men's golf competes at Williams Invitational
---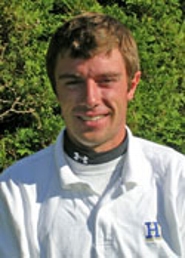 Greg Scott '14 tied for 16th place out of 93 golfers to lead Hamilton College at the Williams College Invitational, which was held at Taconic Golf Club in Williamstown, Mass., on Sept. 25 and 26.
Hamilton finished in sixth place out of 18 teams with a total team score of 618 strokes. The Continentals moved up to fifth if Williams' "B" team (fourth) was removed from the standings. The hosts ran away with the team title with a total score of 591. Middlebury College and Manhattanville College tied for a distant second at 611.
Scott and Brandon De Graff '14 paced Hamilton on Saturday as both carded 76s on the par 71 layout that measured 6,783 yards. Brad Roche '11 and Peter Marshall '14 added 78s for a team score of 308 after the first day.
Hans Schulte '13 owned the best score on Sunday with a 76. Scott and Roche posted 77s and De Graff carded an 80 for the team score of 310 on the second day. Scott's two-day total was 153. Roche tied for 23rd with a 155 and De Graff was 26th at 156.
The Continentals compete in the NESCAC championship qualifier at Shuttle Meadow Country Club in Kensington, Conn., on Saturday and Sunday, Oct. 2 and 3.