Men's golf competes in NESCAC championship qualifier
---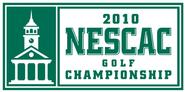 Hamilton College competes in the New England Small College Athletic Conference men's golf championship qualifier at Waubeeka Golf Links in South Williamstown, Mass., on Saturday and Sunday, Oct. 3 and 4.
The 36-hole event starts at 11 a.m. when players from Amherst College, Bowdoin College and Hamilton tee off. Ten teams are in the tournament and the top four will advance to the NESCAC championships in spring 2010. The top finisher at the qualifier earns the honor of hosting the championships.
2009 marks the third straight year the qualifier has been held, and the Continentals have finished in the top four in each of the previous two. Brad Roche '11 -- a two-time all-conference honoree and 2007 NESCAC rookie of the year -- aims to lead Hamilton back to the championships.
Click on the link in the first paragraph to read a complete preview of the event this weekend.