Men's golf competes in NESCAC championships
---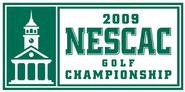 Hamilton College will compete in the 2009 New England Small College Athletic Conference men's golf championships at Middlebury College's Ralph Myhre Golf Course in Middlebury, Vt., on April 25 and 26.
Saturday's round begins at 11 a.m. and Sunday morning's final round gets underway at 10. The winner of the 36-hole event earns the conference's automatic bid to the NCAA Division III championships in May. Ralph Myhre GC measures 6,379 yards and has a par of 71.
Hamilton will be competing against Williams College, nationally ranked Trinity College and Middlebury. The quartet earned the right to play in the championships by finishing in the top four at the 2008 NESCAC Fall Qualifier, which was also held at Ralph Myhre GC.
The Continentals have qualified for the championships both years the NESCAC fall qualifier has been used. Hamilton was runner-up at the 2008 championships. The Continentals have won the title three times, including 1990, 1998, and most recently in 2003.
Hamilton is led by a pair of golfers that made the 2008 all-conference team. Jeff Corbett '09 made the First Team and 2007 Rookie of the Year Brad Roche '11 earned a spot on the Second Team. Corbett's stroke average is 76.32 and Roche averages 76.37 for 18 holes.