Men's golf competes in Sunshine Invitational
---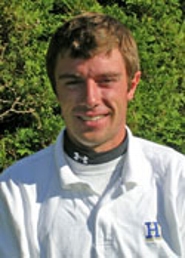 Seven Hamilton College golfers competed as individuals in the first round of the Sunshine Invitational at the PGA Village Ryder Course in Port St. Lucie, Fla., on March 24.

Hamilton did not play in the second round because the team needed to travel back to New York. The Ryder Course measured 6,601 yards and played to a par of 72.

Greg Scott '14 starred again for the Continentals as he fired a 2-over 74. That score was tied for third place out of 33 after the first round. Scott carded a 72 to earn medalist honors in the Saints Invitational on March 19. Carter White '14 and Knute Gailor '13 posted rounds of 78, and Julian Ophals '14 added a 79.

Hamilton is scheduled to play in the Manhattanville-New York University Spring Invitational at Hudson National Golf Course in Croton-on-Hudson, N.Y., on Saturday and Sunday, April 9 and 10.