Men's golf fifth after first day at NESCAC qualifier
---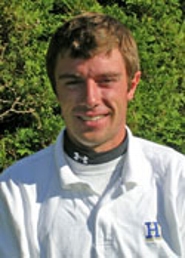 Hamilton College is in fifth place out of 10 teams after the first day of the 36-hole New England Small College Athletic Conference men's golf championship qualifier at Shuttle Meadow Country Club in Kensington, Conn., on Oct. 2.
Hamilton's four-man total is 312 shots after 18 holes. The top four teams at the conclusion of Sunday's round advance to the 2011 NESCAC championships in April.
The Continentals have finished in the top four at the qualifier all three years the event has been held. Middlebury College and Williams College are tied for the lead at 295, host Trinity College is one stroke back in third place and Amherst College is fourth with a 299.
Greg Scott '14 fired a 2-over 73 on the 6,329-yard layout and is tied for seventh place out of 50 golfers. Brad Roche '11 carded a 77 and is tied for 17th place. The best score of the day -- a 2-under 69 -- was posted by a Middlebury player.
Sunday's second and final round begins at 11:16 a.m.