Men's golf finishes eighth at Skidmore's Palamountain Invitational
---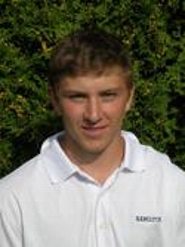 Hamilton College finished eighth of 13 teams in Skidmore College's 24th Joseph A. Palamountain Invitational, which was held at Saratoga National Golf Course on April 11 and McGregor Links Golf Course on April 12 in Saratoga Springs, N.Y.
The Continentals finished with a team total of 648. Skidmore took first place with a team score of 596. Manhattanville College was the runner-up with a team total of 624 strokes. Farmingdale State College and Williams College tied to round out the top three, as both finished with a team total of 628.
Hamilton finished with a four-man total of 326 on Sunday, and the Continentals improved their score by four strokes on Monday. Hans Schulte '13 and L.J. Scurfield '12 tied for 22nd place of 73 golfers. They both carded a 36-hole total of 159. Schulte finished the first day with a round of 80 and improved to a 79 for his second round. Scurfield shot an 82 on Sunday and finished with a team-best 77 in the second round.
Scott Blosser '12 tied for 30th place with a total score of 162. Blosser posted the team's lowest score on Sunday with a 79, and shot 83 in Monday's second round. Blosser's 83 ended a streak of 10 straight rounds in the 70s that dated back to the fall. Riley Jorgensen '11 tied for 49th with a total score of 169. Jorgensen posted rounds of 85 and 84.
The Continentals compete at the Williams Spring Opener at Taconic Golf Course in Williamstown, Mass., on Saturday and Sunday, April 17 and 18.