Men's golf goes for fourth NESCAC title this weekend
---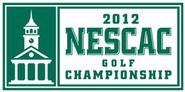 Hamilton College competes in the 2012 NESCAC golf championship at Williams College's Taconic Golf Club in Williamstown, Mass., on Saturday and Sunday, April 28 and 29.

NESCAC Championship Preview

The tournament winner earns the conference's automatic bid to the 2012 NCAA Division III championship in May. The other three schools at the NESCAC championship are Williams, Trinity College and defending champion Middlebury College. Both rounds will begin at 11 a.m.

Hamilton is competing in this event for the fourth time since the NESCAC instituted a 10-team qualifier in the fall and a four-team championship in the spring for the 2007-08 academic year. The Continentals finished second in the 2008 NESCAC championship and ended up third in 2009 and 2010. Hamilton earned a spot in the 2012 conference championship by finishing fourth in the qualifier in October 2011.

Greg Scott '14 leads the Continentals into this weekend. Scott -- a 2011 Division III All-American -- owns a team-best 74.9 stroke average for 18 holes. Carter White '14 is right behind Scott with a 78.7 average. Hamilton's three NESCAC crowns were captured in 1990, 1998 and 2003.