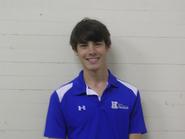 Hamilton College finished in 15th place out of 25 teams at the 31st annual Duke Nelson Invitational, which was held at Middlebury College's Ralph Myhre Golf Course on Sept. 13 and 14.

Results

Greg Reeves '17 carded a 7-over 78 on Saturday for Hamilton and he tied for 32nd place out of 128 golfers with a 36-hole total of 159. Reeves' 78 in the first round was the best score all weekend for the Continentals.

Hamilton's four-man team score was 326 on Saturday and it improved slightly to 325 on Sunday for a total of 651 for the tournament. Rensselaer captured the team title at 605, Trinity College was runner-up at 608 and the University of Rochester took third place at 615. James Jackson of Rensselaer was the individual medalist with a 4-over 146.

The Continentals compete at the Williams College Fall Invitational at Taconic Golf Club on Saturday and Sunday, Sept. 20 and 21.