Men's golf places 4th at NESCAC Championship
---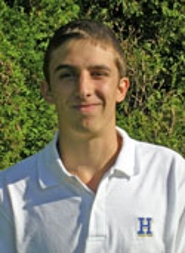 Hamilton College finished fourth out of four teams at the 2012 NESCAC golf championship, which was held at Williams College's Taconic Golf Club in Williamstown, Mass., on April 28 and 29.

RESULTS

Middlebury College captured the conference title with a team score of 626. Middlebury earned the conference's automatic bid to the 2012 NCAA Division III championship in May. Williams was runner-up at 634, Trinity College came in third with a 645 and Hamilton ended up fourth at 656.

The Continentals posted a four-man team total of 327 on Saturday. Greg Scott '14 led the way with a 7-over 78 and Carter White '14 carded an 80 on the 6,809-yard layout.

Strong winds wreaked havoc with the 20-player field all weekend, but especially on Sunday. Julian Ophals '14 fired the second-best round of the day with a 6-over 77, and Scott added an 80 as Hamilton's team score was 329.

The 80 matched Scott's worst score in 20 rounds in 2011-12. The 2011 All-American entered the weekend with a 74.9 stroke average. Ophals and Scott tied for sixth place with a 36-hole total of 158.

Hamilton competed in this event for the fourth time since the NESCAC instituted a 10-team qualifier in the fall and a four-team championship in the spring for the 2007-08 academic year. The Continentals finished second in the 2008 NESCAC championship and ended up third in 2009 and 2010. Hamilton earned a spot in the 2012 conference championship by finishing fourth in the qualifier in October 2011.