Men's golf places 4th at Skidmore event
---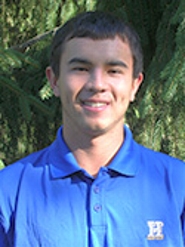 Hamilton College placed fourth out of 10 teams at Skidmore College's Tim Brown Invitational, which was held at Airway Meadows Golf Club in Gansevoort, N.Y., on Sept. 7 and 8.

RESULTS

Hamilton's Matt Yung '16 finished in fifth place out of 60 golfers with an 8-over par 152. The two-day total is Yung's career best for 36 holes with the Continentals. He fired a 75 on Saturday and his 77 on Sunday led the squad on the par-72 layout that measured 6,427 yards.

Greg Scott '14 was next for Hamilton in a tie for ninth place at 156. Scott's 75 on the first day tied Yung for the Continentals' top round of the weekend. Mac Pivirotto '15 posted a 79 on Saturday and tied for 31st place with a 36-hole total of 165.

Hamilton recorded a four-man team total of 312 and was in third place after the first day. The Continentals slipped to 326 on Sunday and ended up at 638 for the tournament. Nationally ranked No. 20 Skidmore won the team title at 610, Salem State College was runner-up at 618 and Farmingdale State College took third place at 635. Farmingdale's Adam Larkin was the individual medalist with a 2-over 146.

Hamilton competes in Middlebury College's Duke Nelson Invitational on Saturday and Sunday, Sept. 14 and 15.