Men's golf places 4th at Williams NESCAC Opener
---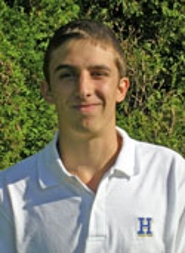 Hamilton College finished in fourth place in the six-team Williams College Spring NESCAC Opener at Taconic Golf Club in Williamstown, Mass., on April 24.

Results

The tournament was supposed to be a two-day event, but Saturday's round was cancelled due to weather that resembled late winter rather than early spring. Taconic GC has a par of 71 and measures 6,808 yards.

Julian Ophals '14 tied for second place out of 38 golfers with a 3-over 74. Ophals fired a 34 on the front nine, and the 18-hole round was his best this season.

Greg Scott '14 tied for 13th place with a 78, and Knute Gailor '13 tied for 17th at 79 that included a 36 on the front side. Hamilton's four-man total was 318. Middlebury College captured the team title with 301 shots.

The Continentals wrap up 2010-11 with the SUNY Oswego Spring Invitational at Oswego Country Club on Saturday and Sunday, April 30 and May 1.